ARCORA Chrome Kitchen Faucet Spray Head Replacement

A kitchen faucet spray head replacement is a maintenance procedure that involves replacing the detachable nozzle located at the end of a kitchen faucet spout. This component, commonly known as a sprayer or spray head, plays a crucial role in controlling the flow and pattern of water that comes out of the faucet. It provides options like a steady stream for filling pots and pans, or a powerful spray for rinsing dishes and cleaning the sink.
Over time, due to frequent use and exposure to minerals in water, the spray head can wear out, become clogged, or develop leaks. When this happens, it's essential to replace it to maintain the faucet's optimal performance. Additionally, upgrading to a new spray head can enhance the functionality and aesthetics of the kitchen sink area.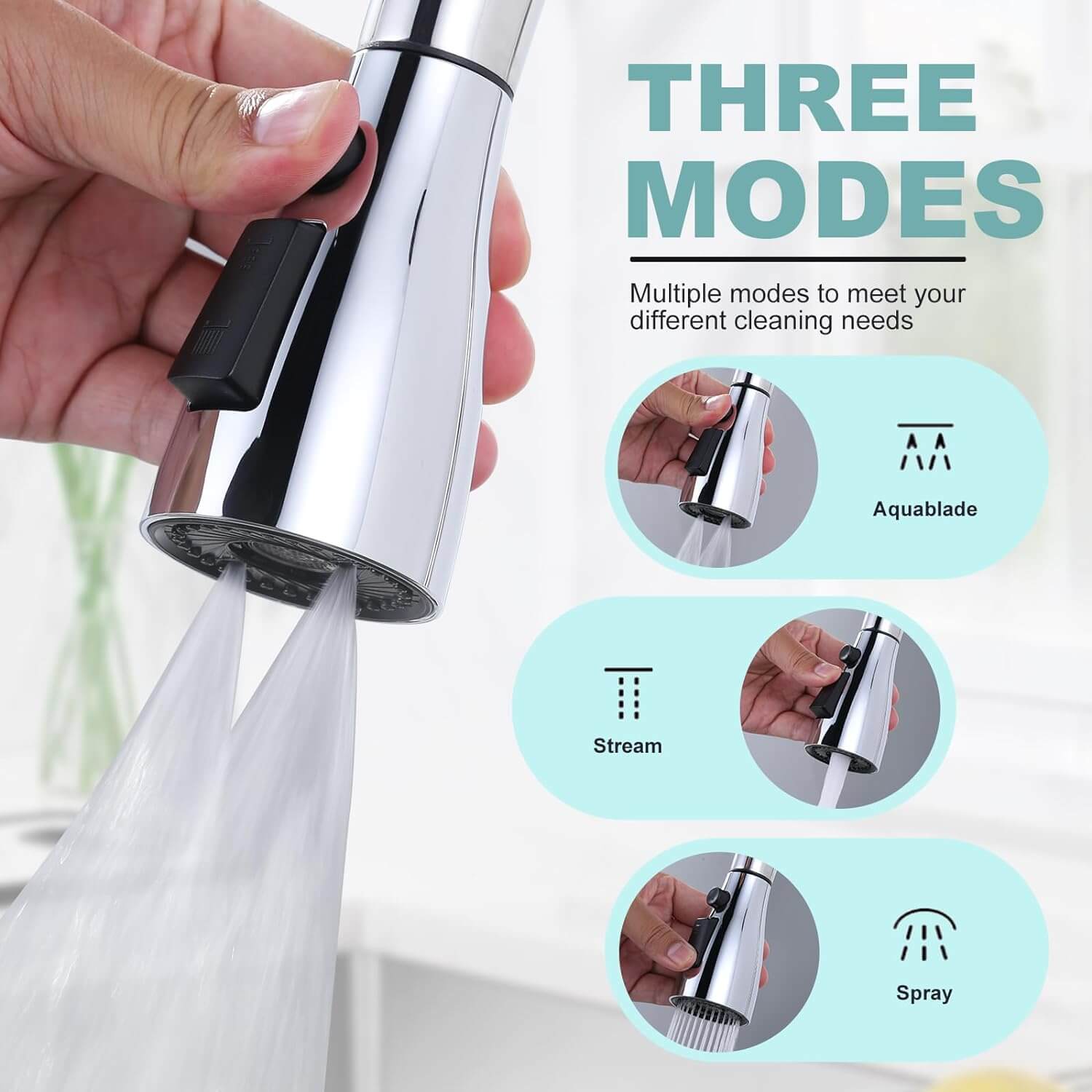 The replacement process typically involves a few simple steps. First, the old spray head is detached from the faucet by either unscrewing it or using a quick-release mechanism, which depends on the specific design of the faucet. Once removed, the new spray head is attached by reversing the removal process. This is usually accomplished by screwing or snapping the new spray head into place.
When selecting a replacement spray head, it's important to consider factors such as compatibility with the existing faucet, the type of spray patterns it offers, and the material and finish to ensure it complements the kitchen's overall style.
Performing a kitchen faucet spray head replacement is a cost-effective way to extend the lifespan of the faucet. It not only restores proper water flow but also revitalizes the functionality of the sink area, making tasks like washing dishes and food preparation more convenient and efficient. Overall, this maintenance procedure is a simple yet impactful way to improve the performance and appearance of a kitchen faucet.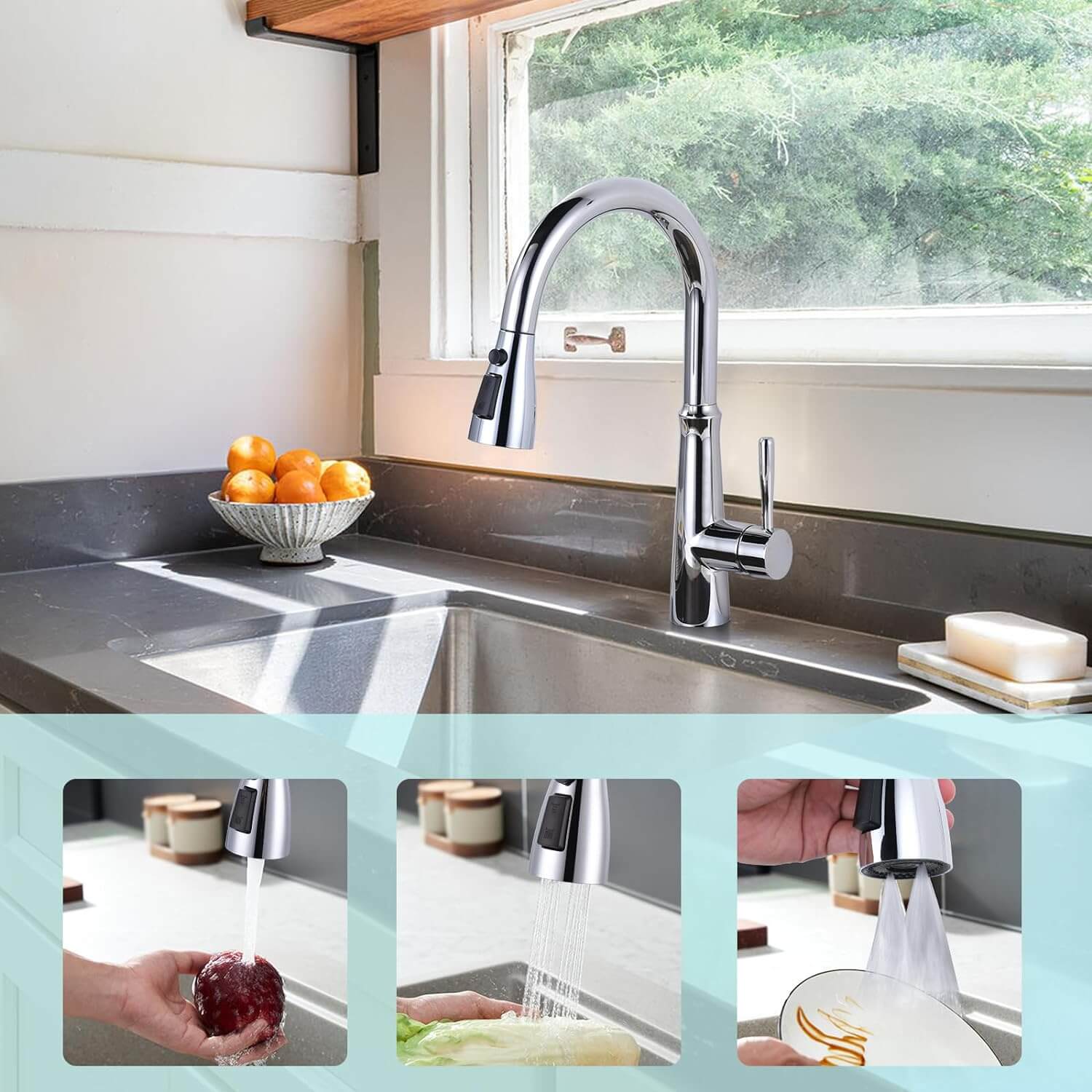 Product Description
Compatible with Moen, Delta, American Standard Faucets!!!
9 Connection Sizes for Various Hose Types: This kitchen faucet spray head replacement comes with 9 adapters for a variety of connections and is compatible with major brands of faucet hoses, not limited to compatible with Moen, Delta, American Standard, AquaSource, Kohler, Hansgrohe and Grohe.
Switch Easily Between 3 Modes: The kitchen faucet spray head replacement has 3 types of water modes to meet your different cleaning needs. With the push of a button,you can quickly switch between stream, spray and aquablade quickly. Stream for gentle cleaning; Spray for daily rinsing; and the powerful aquablade can quickly strip food residue from plates.
Removable and Washable Faucet Aerator: The built-in honeycomb aerator filters impurities and makes the water flow gentle without splashing. A free aerator key included for removing or replace the faucet aerator to clean.
High Quality & No Dripping: This kitchen faucet spray head replacement is made of engineering grade plastic ABS material. With chrome finish, anti-corrosion and anti-rust, ensures longevity.
Easy to Install: It's very easy to install the sink faucet replacement head. Choose the correct adapter, simply unscrew your old shower head and replace it with the new one.