Fireclay Vs Stainless Steel Sink: Which is Better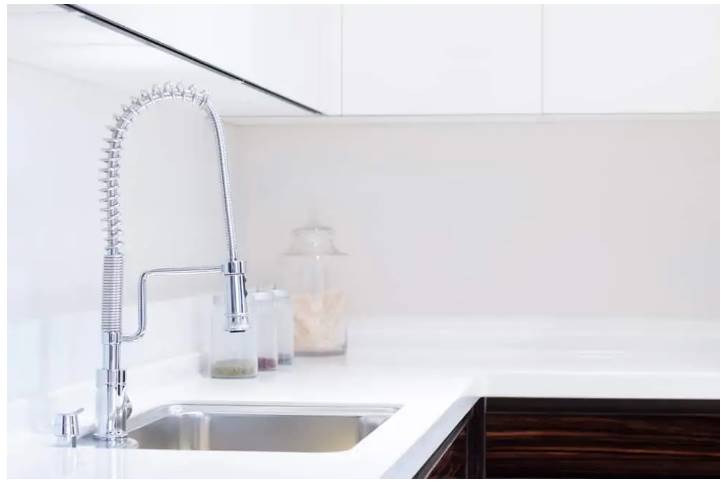 There are several factors to consider when choosing the ideal sink material for your home. Stainless steel, copper, enamel, clay, stone, composite materials, solid surfaces: the list of available sink materials is long. Whether you are renovating your kitchen or starting over in a brand new house, choosing a kitchen sink material is a critical step.
This article will compare fireclay sinks and stainless steel sinks to help you determine which material is suitable, and which, if any, is better.
Clay sinks
Clay is commonly used to make farmhouse sinks and consists of a ceramic clay mixture that includes raw kaolin, clay and quartz. The clay is dried at high temperatures and then fed to the kiln at higher temperatures. During the drying process in the kiln, the enamel hardens on the clay. The sink is fired for a total of more than 28 hours.
The final result has a smooth and airy aspect, allowing you to choose the design you want toward the front. These sinks are customizable, although the options are limited. You can choose from several finishes, such as matte black, matte white and glossy white. Some fireclay sinks have unique swirls or patterns decorating the front of the apron.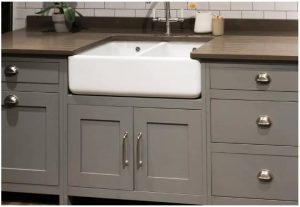 Unlike stainless steel, fireclay sinks are relatively quiet. The water flow does not bounce around the sink as much as stainless steel, which can irritate some people.
Frequently Asked Questions (Faq)
Are Fireclay Sinks Shiny?
Yes and no. The gloss of a fireclay sink depends entirely on the finish option you choose. Matte black will be a flat black, while glossy white will have a noticeable sheen. With proper maintenance, it will retain its luster for years (if that's how it started).
Will fireclay sinks crack?
While clay sinks are more prone to cracking than other sink materials such as cast iron or granite, the likelihood of them breaking with regular (mild) use is quite low.
Are Clay Sinks Susceptible To Scratching?
Fireclay sinks are usually not easily scratched due to the extremely high temperatures required for the composition process. After a while, the finish may begin to wear off, causing the sink to be susceptible to scratching. However, high-quality fireclay sinks tend to have a finish that lasts longer than most finishes.
Can I Pour Boiling Water Into My Clay Sink?
As a general rule of thumb, it is usually best not to pour boiling water into a clay sink. If you must pour boiling water into your sink, use cool water at the same time. Unless you have a sink grid to protect the bottom of the sink, allow hot pots and pans to cool in the sink before placing them.
Are Clay Sinks Durable?
Clay is quite durable because it is heavy and dense due to its non-porous nature. Its solid composition makes it very heavy, which can make it difficult to install. Generally, it takes at least two people to install a sink safely.
Special cabinets are necessary to support the excessive weight of a fireclay sink, and it may require special installation.
Advantages And Disadvantages Of Clay Sinks
Pros.
Non-porous
Resistant to acids, alkalis and scratches
Has some resistance to chipping
Durable
Quieter than other sink materials
Disadvantages
Limited color and size options
Stains easily without proper care
Finishes may crack when worn
Expensive
Care Of Clay Sinks
Like all things, clay requires daily care to maintain its beauty. A clay sink requires only simple maintenance on a regular basis. To keep it in pristine condition, rinse it off every day after washing dishes or when the sink becomes dirty.
After cleaning, wipe the sink with a soft dry cleaning cloth (such as a microfiber cloth) to prevent water spots. Once a month, apply a thin layer of liquid wax to the sink to promote effective drainage.
For stubborn buildup, use a mild abrasive cleaning product or baking soda. Apply with a soft, damp sponge and gently scrub the sink until the dirt is gone. Daily cleaning should not damage the finish.
Sink grids are a great way to further protect fireclay sinks. They help protect the bottom of the sink from hot pots and pans, from the impact of dropped dishes, and more. This will help prevent cracks, scratches or stains from trying to take hold in your beautiful sink.
Stainless Steel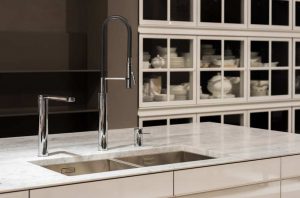 Stainless steel is a commonly used material for sinks because of its affordability and durability. They are resistant to bacteria and stains, further adding to their popularity. Most importantly, they are easy to clean.
Generally, stainless steel sinks range in size from 18 to 22 inches. However, some sinks will be 15 to 24 inches. If what you want is less noise, minimal dents and scratches, and durability, then a heavier gauge sink is a better choice.
These sinks come in many different styles and widths to meet the needs of a variety of kitchens.
Stainless steel sinks can be noisy, so some manufacturers have worked to solve this problem by incorporating sound-absorbing rubber mats. Unlike other sink materials that come in a variety of colors, stainless steel sinks are limited to silver. However, they are available in a number of different finish options, such as satin/brushed or mirror, highly reflective finishes. Satin finishes tend to be better at preventing general wear and tear.
Unfortunately, stainless steel sinks can develop water spots quickly, so you'll need to wipe them down after each use to avoid this. However, they are heat resistant, which is a nice feature.
Pros And Cons Of Stainless Steel Sinks
Pros
Easy to install
Easy to clean
Budget friendly
Resistant to cracking and chipping
Many options available
Inexpensive
Disadvantages
Easily scratched
Can be noisy
Only available in silver
Watermarks can ruin the glossy look
Stainless Steel Sinks Frequently Asked Questions (FAQ)
Can I Use An Abrasive Sponge On My Stainless Steel Sink?
No. Do not use abrasive sponges on stainless steel sinks. Because scratches are a common problem with stainless steel, use only soft sponges. Avoid using steel wool or steel scrubbing tools.
Are Stainless Steel Sinks Challenging To Install?
Due to its relatively light composition, stainless steel sinks are easy to install. Unlike other sink materials, such as clay, which require several people to install, stainless steel sinks can usually be installed by one person.
Maintenance Of Stainless Steel Sinks
Daily care is essential to keep stainless steel sinks sparkling clean and scratch-free. To avoid water spots on your sink, rinse and dry the sink after each use. If water spots appear, use a microfiber cleaning cloth to wipe out the blemishes.
If you have a hard water problem that stains the sink or leaves deposits, clean them off with vinegar. Once you've finished using the sink at night, clean it out and rinse it with vinegar. Wipe it dry. Doing this daily or weekly will help keep your sink clean. For an extra shine, rub a small amount of olive oil on the sink with a soft cloth.
Add a sink grid to the bottom of the sink to protect it. This helps prevent scratches while still effectively allowing water to drain away.
Avoid cleaning the sink with a wire ball, as they can scratch the sink and leave iron particles that can cause it to rust. Instead, use a soft scrubbing pad and scrub in the direction of the grain to remove stubborn stains.
Which Sink Material Is Better?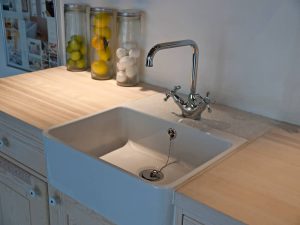 Choosing the best sink material depends on your personal preference, so no sink material is better than any other. If you are on a budget but need an elegant, durable sink, stainless steel is a great choice.
On the other hand, if you have a larger budget and prefer the timeless elegance of a fireclay sink, they are also a good choice. Both types of sinks are relatively easy to maintain and are quite durable, making them great sink materials.