How to Identify A Delta Kitchen or Shower Faucet Model
Knowing the make and model of your shower is a must if you need to repair or replace parts such as the shower rod or faucet core. If you don't know how to find it, you will after you read this. It's as easy as opening a jar of peanut butter, but it takes twice as long.
Delta is known for its extensive product line. Over the years, the company has introduced hundreds of different lines of showerheads. That's great, but it makes it harder for you to find the make and model of your shower faucet.
We will guide you through the following steps to identify your faucet.
Make sure you have a Delta faucet
Check the packaging or instruction manual. If you don't have one, skip to the next step.
If you have a model made before 2004, search online. If you have a newer model, skip to the next step.
Use the product identifier tool on Delta's website.
If all else fails, contact customer support.
Find The Model Number Instruction Manual And Packaging
The model number location of the faucet is not on the faucet itself. It is on the packaging and also on the instruction manual. Most people don't keep such things, or it's in a drawer somewhere, buried in a stack of other manuals.
If you can't find the manual or packaging, you may be able to find your model number through Google or other online tools. Pictures of many models can be found by looking at the descriptions on their websites. Go to the Customer Support section and use the Find Support Information section to identify your product.
Don't have a manual or packaging? If you can't find a manual, then go online sometime and use Delta's website to find it. This only works if you have a newer model (5 years old).
Have An Older Model?
If you have an older model, you will not be able to find your model because Delta's product tool on the product only goes back a few years. So if you have a shower faucet that is 25 years old, you will have to search online.
Delta rebranded their older faucets as Brizo. in 2004, Delta Select changed the name of all Delta Plus products to Brizo. while the company is still part of Delta Faucets, they are designed for a more "discerning" clientele. This means they are high-end products, I guess; they cost a lot more.
One way to find the Delta Plus models is to go to the Brizo website. Although they have been renamed, most Delta shower faucets will have their name on the drain cover or drain plate. Older models may also have the MASCO name on them.
But Brizo's website doesn't go back very far either, so you might want to contact their customer service. But maybe Google is easier. Here is a picture of their 2004 catalog/ of their product line and models. It comes with parts diagrams and model numbers for Delta products.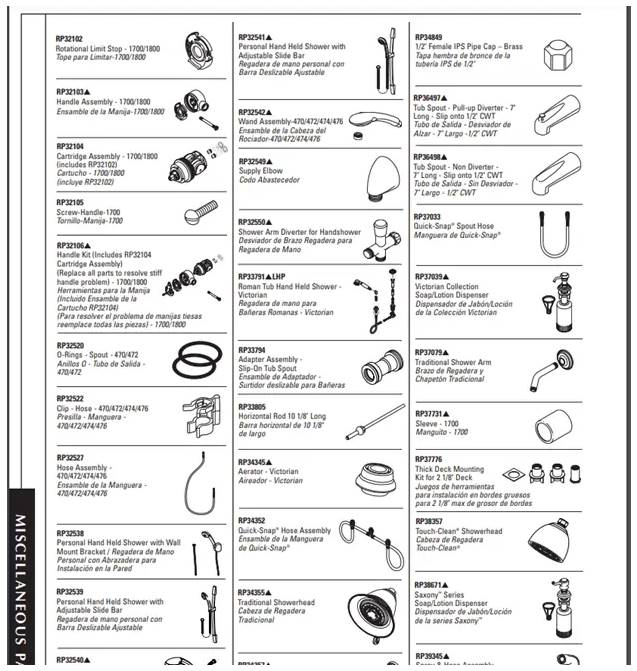 To find your old faucet model, search online for "Delta Faucet Catalog 1999" and see what year you need. If you're not sure how old your faucet is, you may need to call Customer Service. Please skip to the Customer Service section to find out how to proceed.
Are All Delta Shower Valves The Same?
All Delta shower valves are universal (interchangeable). Checking older catalogs is probably the best way to find older models.
Where Can I Find The Brand Name Models On The Delta Website?
Take the following steps to find the make and model of your Delta shower faucet online. This works for both kitchen and shower sink faucets. In this example, I am looking for a shower faucet.
First, make sure it is a Delta faucet. If you have a newer model, you can use the product search tool to find your faucet. Delta's website has an app that will allow you to find any of its newer products.
Find A Model On Delta's Website

Go to Delta's website. Go to "Common Parts Tools" on the Delta website. Or just search for "Delta Find Parts and Identify Products". You can also go to the FAQ page and use their Product Finder application.
Now, go to the part identification tool. Select the shower component.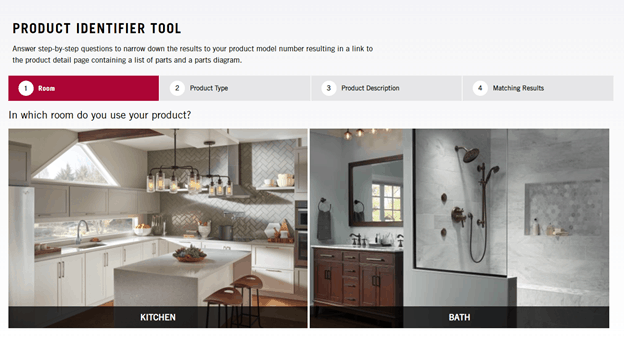 Scroll down to the "product identifier" tool and choose bath.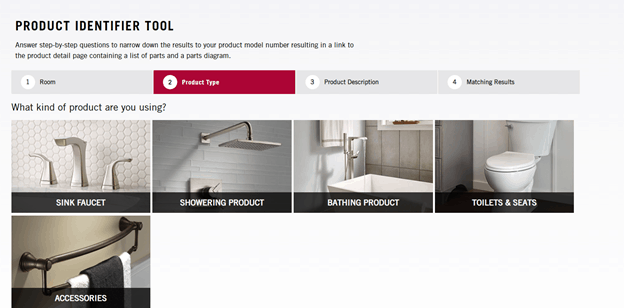 You'll be taken to a new page. Now choose the showering product option.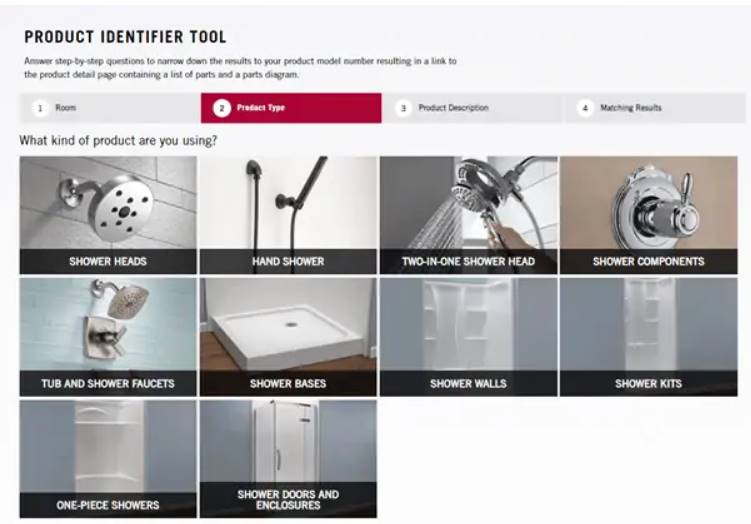 Next, you have a few more options. You can choose either the "tub and shower faucet" or the "shower assembly".
I chose the shower kit, but the tub and shower kit is also available.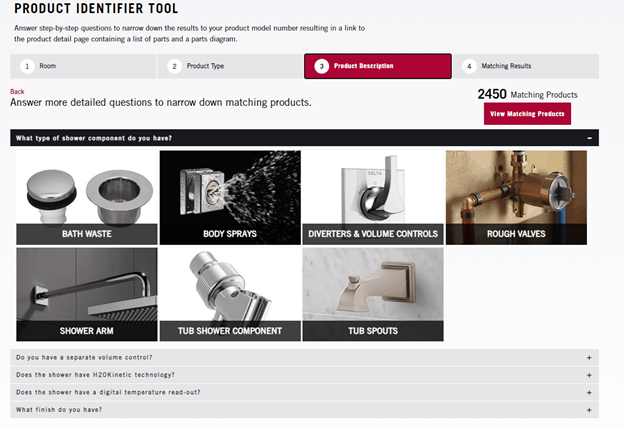 Now identify your faucet and click on the tab to answer questions about your faucet. In this example, I am looking for a bathtub spout.
Here is the final identification page; select your product. This is the last stop before your shower faucet model number pops up.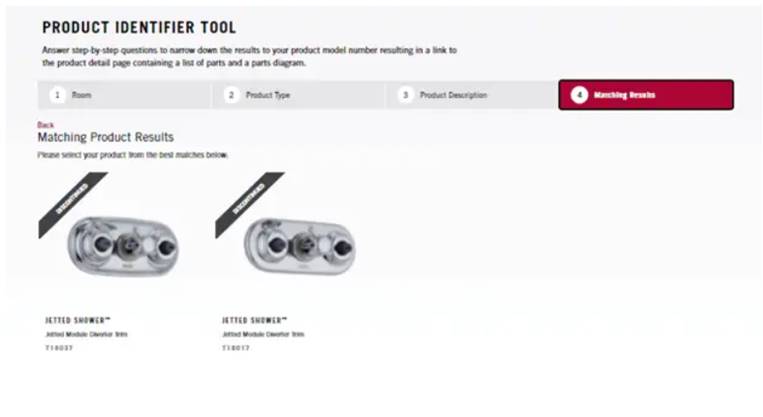 Finally, after a few minutes, you will be taken to the results page. Hooray, good for you! Now you can use it for what you need, or find the manual online. Everything is online.
But if you can't find a match, you can get some guidance from a customer service representative.
How Do I Contact Delta Faucets Customer Service?
Until 1994, you could not order pizza online. Even then, you could only get Pizza Hut. Now everything is online, even your grandmother. But sometimes you can't find what you're looking for. If you need more help, you can call Customer Service.
Delta is known for honoring its guarantees and good customer service. You can contact Delta in three different ways.
You can call their customer service line. (800) 345-delta. Delta is available Monday through Friday from 8 a.m. to 9 p.m. Eastern Time and Saturday from 9 a.m. to 6 p.m. Eastern Time.
If you would like to contact customer service outside of business hours, please email them at customerservice@deltafaucet.com.
If you prefer, you can also write them a letter. Please make sure the address for the letter is Delta Faucet Company Attn: Product Service 55 E. 111th St. Indianapolis, IN 46280