Pot Filler Faucet Pros And Cons: Which is Better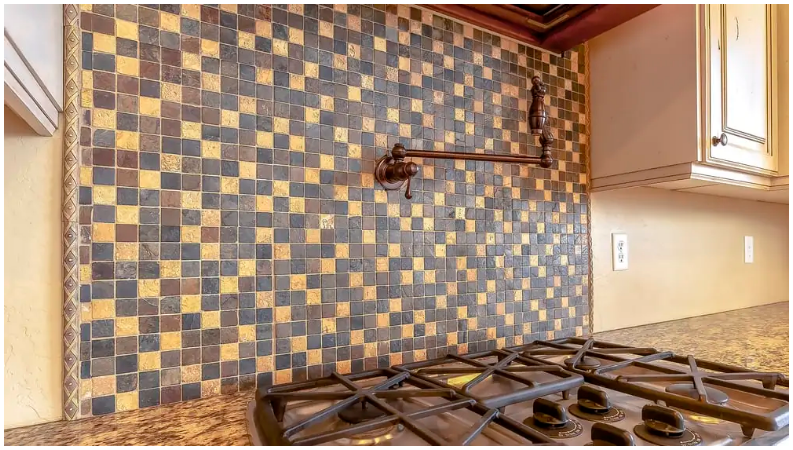 Pot-mounted taps are stylish and add a sleek, sophisticated look to your kitchen. They eliminate the need to carry heavy pots filled with water back and forth from the sink. This removes the possibility of water running over the side of the pot, creating a huge mess in your kitchen as you try to carefully balance your way back to the cooker (which just adds to your lengthy to-do list).
However, many people believe that jug taps are an unnecessary addition to the kitchen. Are they worth the hype? In this article, we will analyze pot filler faucets to help you decide if you should have a pot filler faucet in your kitchen.
What Is A Pot Faucet Tap?
A pot filler faucet is exactly what its name implies: a tap whose sole purpose is to make filling pots easier. There are several different styles to choose from, such as the two-section filler tap that swings out from the wall above the cooker or hob.
Normally, the filling tap sits against the wall near the backsplash, safely out of the way, when not in use. When you need to use it, pull the neck of the tap towards the pan and turn on the water flow. Just like that, you have a full pan ready for cooking. All this without the need to carry water from the cooker.
Pot filler faucet pros and cons
Pros of pot filler faucet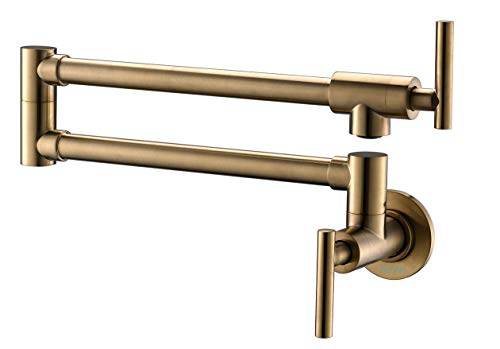 There are several benefits of a pot filler faucet that may make it more likely that you will have a pot filler faucet in your kitchen. For some people, they are a necessary convenience, while others find them unnecessary.
Say Goodbye To Heavy Lifting
If you spend a lot of time in your kitchen, concocting various meals or baked goods, you will know how much of a hassle it can be to move a large pot filled with water from the kitchen sink to the cooker.
To avoid making your kitchen floor a makeshift slide, you'll have to carefully balance this heavy pot on its way from the sink to the cooker. Okay, it might only be three or four steps, but when you're doing the balancing act with a heavy pot of water, those few steps can seem like forever.
The bottom line is that you're wielding water in the kitchen, which happens to be quite heavy. A gallon of liquid weighs nine pounds and a cubic foot of water weighs a little over 62 pounds! In this case, you have to allow plenty of time for balancing.
Since the jug filler eliminates the wobbly balancing act and 50% of the heavy transport distance (you still have to empty the jug), your back will thank you. Moving a jug full of water back and forth can be taxing on your back. Fortunately, the jug tap eliminates the heavier half of the journey – yes, you still have to take the jug to the sink to drain it, but some of the water evaporates during the cooking process, right?
Installation Isn't Complicated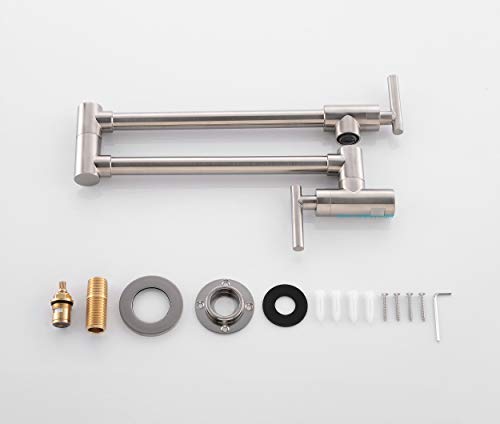 If you're an avid DIYer, the process of installing a water-filled kettle tap on your cooker should be a breeze (hypothetically). You will need to follow the manufacturer's instructions on how large a water supply line you will need. The instructions will outline the particulars of the installation, which should be simple enough to follow.
Make sure you install it at a good height, otherwise it will get in the way of the large basin.
Now, if sticking popsicle sticks together for arts and crafts projects your child needs to do at school is part of your DIY ability, then hire a contractor or plumber. They should be able to do the job in under 30 minutes as it is not a complicated process.
Improve Efficiency
Chefs and home cooking connoisseurs understand the need for speed in a busy kitchen. Your balancing act in the kitchen can be particularly tricky if you're dodging other people with a jug full of water.
This is where the jug tap comes in handy. Not only can you skip the 'excuse me' and 'please excuse me' as you bob around the kitchen, but water flows out of the filling tap faster than a standard tap, enabling you to fill it up quickly.
Generally speaking, water flows from a water-filled tap at 4 gallons per minute, compared to 1.5 gallons per minute from a standard tap. Therefore, with a water-filled tap, you get the job done three times faster.
No Need To Clean The Sink

Unless you have a pull-down kitchen tap or a removable tap that allows you to fill a pan with relative ease, you may have to clean the sink to fill a pan. If you're already behind and a sink full of dishes that you have to empty is just another hassle.
Alternatively, you don't need to worry about having to stop washing dishes to fill the pots. You can leave the sink full of dirty dishes in place and fill the pots in a completely different place.
Cons Of Pot Filler Faucet
While pot-mounted taps are great in some situations, they fall short in others.
High Installation Costs
If your kitchen is finished or you have a complex plumbing layout, installation can be complicated, leading to higher installation costs. Unless, of course, you do it yourself.
Leaky Taps
Taps can easily leak when they are old or incorrectly installed. Make sure that the taps are installed correctly. Otherwise, you will experience leaks and drips that could damage the surrounding floors and cabinets.
Half The Trip
After cooking, you still have to drag the pan filled with water back to the sink. Although some of the water evaporates during the cooking process, it will still be heavy. In addition, you are carrying a hot liquid so you need to be extra careful.
Overflowing
When you fill the sink with pots and pans, you don't have to worry about the water spilling out of them. The water will spill straight into the sink. However, when using a pot-filled tap as your water source, the stakes are higher. If you leave the pot and forget to turn off the water, you'll have an impromptu slip and fall.
Infrequent Use
You may find that you don't use it as often as you think you do. Therefore, for some people, a pot filler faucet may just be an unnecessary expense.
Frequently Asked Questions (FAQ)
Should A Jug Tap Match Your Kitchen Tap?
This is entirely up to you. You can choose to match the jug spout tap to the color of your kitchen tap, or you can match it to your extractor hood. This decision ultimately depends on your aesthetic sensibilities.
Is A Jug Spout Tap A Good Idea?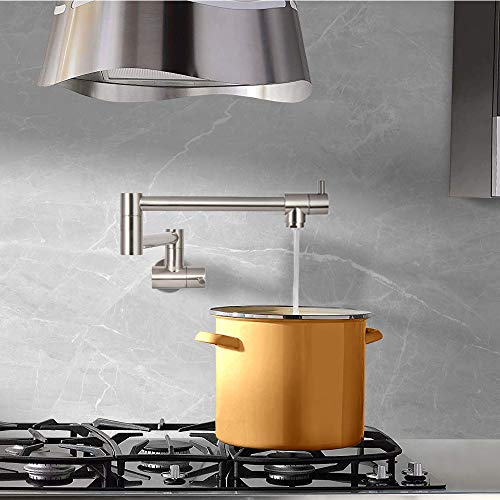 Again, it comes down to personal preference. If you think you'll get a lot of use out of it, make it worthwhile, or want to save your back, then it's a good idea. Or, if you just like the sophisticated touch it gives to your kitchen, then by all means, incorporate it into your design.
Is It Expensive To Install A Spout?
If you have complicated plumbing, pipes that don't easily reach where you need a jug spout tap, or you're installing a fancy tap, then the cost can be upwards of $1500. However, for a simple installation, it could be as low as $300.
Do Fillers Get Dirty?
Yes, considering they are on top of the cooker, they can get dirty. The delicious, bubbling mixture on the cooker may splash water droplets onto the pan filler. So, yes, it can get messy, but it's easy to clean.
Should I Connect My Pan Filler To Hot Or Cold Water?
Most people use cold water for pot filler faucet when cooking. Generally, the pot filler faucet should be connected to the cold water supply line.
Do Pot Filler Faucet Add Value To A Home?
Yes, a pot filler faucet can increase the value of a home. It is usually not a defining feature for most buyers, but it is certainly a good addition.
Why Do Fillers Have Two Handles?
Generally, water-fillers have two handles: at the end of the spout to turn the water on and off, and at the wall to turn it off/on.
Where Should The Spout Be Placed?
The spout should normally be placed to the right or left of the cooking surface. This is because you don't want to reach for it over a bubbling pot.
Should The Pot Liner Be Placed In The Centre?
According to our answer to the previous question: No, the pot filler should not be placed in the center. If you do, you are likely to be burned by another hot pan or pan on the cooker while trying to reach the pot filler.
What Are The Specification Requirements For Pan Fillers?
The code requirements for pan fillers vary depending on your area. Therefore, check the local requirements before installing. If you have a plumber install your pan filler, they should be aware of the local code requirements for pan fillers.