What is My Bathroom Sink Made of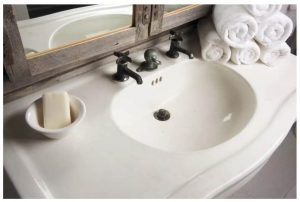 The sink in your bathroom could be composed of a wide array of different materials. Whether your bathroom sink lends an abstract art piece to your bathroom or it is a practical sink designed for functionality, materials vary in composition, price, and appearance. This post will show you how to tell what is your bathroom sink made of.
Types Of Materials Used For Bathroom Sinks
Bathroom sinks are usually made of porcelain and enameled cast iron. They are durable and sturdy sinks that stand the test of time. Other bathroom sinks may be enameled steel, stone, acrylic, tempered glass, solid surface or wood.
Most of these materials are available in different color options. If your sink is made up of porcelain and enamel materials, there is a wide range of colors that can be purchased to match your bathroom decor. Tempered glass may show swirls of color throughout the sink, while metal options may be available in stainless steel, bronze or copper sinks.
How Can I Tell What My Sink Is Made Of?
Many bathroom sinks are made of porcelain or ceramic, but some sinks may be made of metal, stone, tempered glass, etc.
Metal sinks are usually easy to identify because of the bronze, stainless steel or copper materials used. Natural stone sinks may be composed of marble, granite, onyx, or other forms of natural stone.
Tempered glass sinks are usually recognizable, but it can be a challenge if the glass has swirls of darker tones that almost make it look like metal.
If you're not sure what your sink is made of, check the original packaging or use the model number to research to determine the material used to make it. If you're not sure where to start, the manufacturer's website may have an identification aid, depending on the manufacturer.
Ceramic Vs. Porcelain
Ceramic and porcelain sinks are virtually identical in appearance. Ceramic is a form of pottery made using clay powder and water. It can be shaped by hand and then treated with extremely high temperatures to allow it to withstand shards or scratches well.
Porcelain is also a form of earthenware. It is made from a fine mixture of clay that is compressed under high pressure and baked in a kiln at extreme temperatures.
How Do I Know If My Bathroom Sink Is Porcelain Or Ceramic?
It is very difficult to distinguish between the two. In terms of appearance, porcelain and ceramic are virtually indistinguishable. The best way to determine what material your bathroom sink is made of is to find the model number and do some research on the internet.
What Is The Most Popular Sink Material?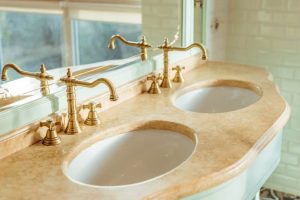 Porcelain and ceramic sinks have been a fashionable choice in the past due to their durability. Their relatively low prices make even the higher-end models reasonably affordable.
Vitreous china, which is essentially porcelain with a glaze, is also one of the most popular materials for bathroom sinks. Both porcelain and vitreous china offer the perfect combination of durability, ease of cleaning and affordability.
Stainless steel sinks are becoming increasingly popular. They hold up well to stains and can resist heat and dents. While stainless steel is more common in the kitchen, it is also a great choice for the bathroom.
Pros and Cons of Bathroom Sink Materials
Each type of bathroom sink material has its advantages. Before investing in a new sink, weigh the pros and cons of each material to determine what works best for you and your needs.
| | | |
| --- | --- | --- |
| Material | Pros | Cons |
| Vitreous china | The durable, affordable, glossy coating improves the appearance | Chips are very noticeable, may crack during installation |
| Porcelain | Durable, affordable, chips are less noticeable than on vitreous china | Heavy, prone to stains |
| Acrylic | Lightweight, strong due to fiberglass fiber reinforcements, easy to install | Can easily be scratched, typically won't last as long as ceramic |
| Stainless steel | Extremely durable, lightweight, easy to install | May develop scratches, challenging to keep clean |
| Enameled steel | Affordable, lightweight, great in under-mount sinks | Can be flimsy, enamel may chip and crack |
| Solid surface | Available in many colors, easy to install, solid construction | More expensive than other options, may scratch easily |
| Tempered glass | Adds a decorative note to the bathroom | Brittle, breaks easily, expensive |
| Stone | Durable, resistant to stain | Hefty, may need several people for installation, expensive |
Use this chart to help determine if an acrylic bathroom sink is best for your needs, or if perhaps a stone sink is right for your home.
Bathroom Sink Styles
Bathroom sinks are designed to suit a variety of aesthetics, tones and tastes. They are an important part of every bathroom and can help enhance the elegance of the bathroom and tie everything together.
The basin portion of a sink can be installed in a variety of different ways, including.
Wall-mounted sinks. These sinks are a common choice for many bathrooms. Because they are attached to the wall and do not come in contact with the floor, they take up very little space. The plumbing underneath the sink is exposed.
Pedestal sinks. In these sinks, the basin is mounted on a pedestal. The pedestal hides the piping and it does not need to be attached to the wall because the pedestal supports it.
Drop-in sinks. Drop-in sinks are located inside your bathroom vanity countertop and have a lip as a support to keep the sink in place.
Vessel sink. Vessel sinks are usually deep bowl-shaped and rest on the bathroom countertop.
Corner sink. Corner sinks are a great space saver. Nestled in the corner of the bathroom, they don't require any counter space, just a wall mount or a pedestal.
Trough sinks. These sinks are common in both public and private restrooms. They mimic the look of a sink and have a wide basin that can be easily used by several people at once. They can be wall-mounted or floor-mounted designs.
Undercounter sinks. These sinks are installed under your countertop and hung in place by a special adhesive or caulk. It saves countertop space and all accessories are hidden inside the countertop.
Console sinks. A console sink seamlessly combines the styles of a wall-mounted sink and a pedestal sink. The basin is mounted on the wall but has two or four legs to provide additional support.
What Is My White Kitchen Sink Made Of?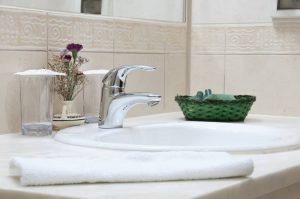 The white sink in your kitchen may be made up of several different materials. If you're not sure what material it's made of, the best thing to do is check the packaging or use the model number to do your research. Popular choices include materials such as fireclay, solid surface, enamel-coated cast iron and composite materials.
White kitchen sinks composed of fireclay are usually available in two finish options: glossy and matte. They are relatively scratch and chip resistant but perform well in terms of heat and stain resistance. These sinks may tend to be on the expensive end of the spectrum.
Enamel-coated cast iron sinks usually have a glossy finish and are not particularly resistant to cuts or scratches. They do resist stains and heat well but are costly to maintain.
Composite kitchen sinks usually have a matte finish. They resist scratches, chips, heat and stains very well. They are low-maintenance and often affordable.
Solid surface sinks come in a variety of colors and finishes. They are not scratch-resistant, but scratches can be easily sanded away. Solid surface sinks tend to be mid-range in terms of price.