Blanco Vs Elkay Kitchen Sinks – Brand Comparison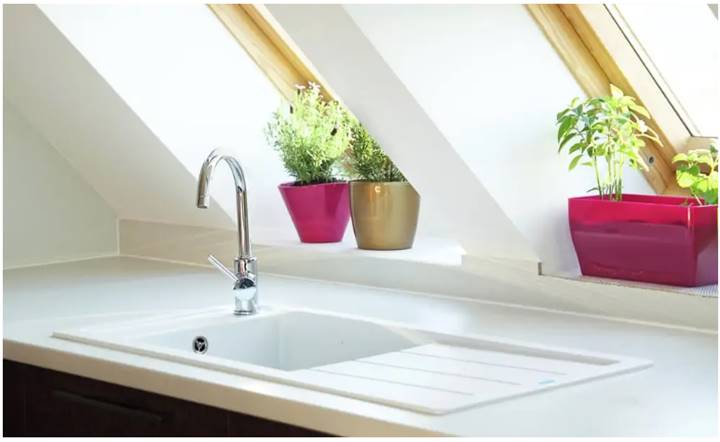 The sink is the big man on campus in the kitchen. Or maybe the fridge is, I don't know. Either way, getting a new sink is an exciting thing to do. These brands don't come close in terms of price, durability and style. Blanco vs elkay are the top brands of kitchen sinks. Read this section for all the information about blanco vs elkay kitchen sinks you need to know. In a sense, they are almost like twins. But there is always a dominant twin. A slight difference in price or style here and there can save you a few bucks.
Is Elkay A Good Sink Brand?

Elkay is a family-owned and operated business based in Chicago. They have been around for over 100 years since the 1920's. Elkay has a rock-solid reputation in the industry as a manufacturer of quality sinks at affordable prices.
From stainless steel sinks to water purification systems, they keep quality a priority while keeping costs affordable. There is a size and style to suit everyone. They have double, single, triple and undermount sinks. You name it, they've got it.
Available in different materials, sizes, installation options, depth options, colours and much more. Finding the perfect sink for your space and style is a breeze. Their sinks will last forever, but it depends on how much abuse you intend to do.
The Pros And Cons Of The Material
Fireclay. Easy to maintain, can be installed in a variety of ways, can handle daily traffic, suitable for high temperatures, timeless design. Keep in mind that it is heavy and limited in colour and design. It is prone to chipping and water damage over time.
Stainless steel. Won't chip or crack, durable, recyclable, high-quality steel, heat and stain-resistant, easy to maintain and long life. However, it can rust if exposed to corrosive liquids (bleach) for long periods of time.
Quartz. Durable, non-porous (no bacteria build-up), easy to maintain, scratch-resistant, stain-resistant, heat resistant, natural noise/acoustic reduction, environmentally friendly manufacturing process. Quarts are hard enough to stand up to heavy use.
If you want something that looks good, lasts a long time and is easy on the wallet, Elkay is a great brand. Their sinks cope well with everyday use. Each material has its own unique qualities that allow them to stand up to daily use in the kitchen.
Their range of quartz sinks is easy on the ears. Quartz is naturally insulating, which makes it quieter than stainless steel. You can throw your cutlery in at a distance of 5 or 6 feet from the sink. They may break, but they will be quiet.
Elkay uses high-quality stainless steel, which is thicker than most other companies' stainless steel, making it more durable and longer-lasting.
You would naturally think that high-quality materials would mean a higher price, but this is one of the things that sets Elkay apart from their competitors. Although their sinks are made from high-quality materials, they are reasonably priced.
Elkay's Warranty
Most of Elkay's residential sinks come with a lifetime warranty. Their warranty does not cover shipping or installation damage, so you'll want to make sure you have insurance for your shipment through your shipping company just in case.
To help ensure that your new sink lasts, Elkay has care and maintenance videos on YouTube and instructions and tips on their website.
Elkay's History
There is no denying that Elkay is one of the oldest sink manufacturing companies in the United States and the oldest in history. With a family pedigree behind Elkay, you can be assured that you are getting a quality product.
From the company's inception in 1920, their mission has remained to make quality sinks at affordable prices, ensuring that customers are satisfied with both quality and cost.
Elkay is a leader in sustainable materials for kitchen sinks. Their quartz and steel sinks are made from 60% recycled materials and are environmentally friendly without lacking in quality. They are leading the way in producing greener, more sustainable and innovative sinks.
Elkay's Customer Service
Elkay prides itself on providing high-quality products and excellent customer service. If you need a replacement part or a full replacement, they are easy to find.
Where To Find Elkay Products
They have locations all over the world and their products are sold directly online through many retailers such as Amazon, Home Depot, Lowes and their website.
Is Blanco A Good Sink Brand?

Branco started producing quality sinks in Germany in 1925 and in 1981 they moved into granite and started producing granite composite sinks. Since then they have shifted to making sinks with enough durability to withstand heavy daily use.
Their products, from sinks to wastewater and water systems, have evolved with the standards of today's living environment. Their sink products are available in hundreds of styles and numerous colour options for your home.
Materials
SILGRANT (granite composite) – available in a wide range of colours, durable, resistant to high heat, scratches, acid and water damage (when properly sealed), long-lasting, naturally sound deadening, colours that will not fade and easy to maintain. Some things to note. Heavy (requires extra support), needs to be sealed annually, may chip, hard surface (can break glassware).
Stainless steel – will not chip or crack, durable, recyclable, high quality steel, heat and stain-resistant, easy to maintain, long life. However, will rust if exposed to corrosive liquids (bleach) for long periods of time, loud, limited colour and style, may have scratches or dents.
Clay – easy to maintain, can be installed in a variety of ways, can handle daily traffic, suitable for high temperatures, timeless design. Keep in mind that it is prone to chipping and cracking over time and water damage over time.
Silgrant was created by Blanco, from whom any granite composite comes. They hold the patent for the formula that makes granite composite sinks and features. Granite composite sinks and quartz composite sinks are similar in terms of durability and range of colour options, and they have similar maintenance needs.
While stainless steel is often a more affordable option for kitchen sinks, they lack colour options and tend to be more prone to damage during daily use than Silgrant or quartz sinks. However, these two stone-based sink materials have been shown to last longer compared to fireclay and stainless steel.
The Blanco Guarantee
Blanco Professional guarantees that all products will work properly as long as they are installed properly. Their stainless steel and silicate sinks come with a 25-year warranty, while other products come with warranties ranging from 1 to 5 years.
Blanco's History
Blanco was founded in 1925 by Heinrich Brown in Oberdingen in the German federal state of Baden-Württemberg. They are the largest and oldest company in Germany producing sinks, mixer taps and other innovative products.
Since then, Blanco has been providing innovative residential and commercial kitchen solutions and medical equipment.
Blanco's Customer Service
Its team is dedicated to answering all your questions, concerns and any other service needs.
Where To Find Blanco Products?
Like many products, you can find Blanco sinks, taps and other products online through Amazon and their website as well as other retailers.
Are Blanco Sinks Made In China?
Simply put, no. At least not when it comes to their Silgrant sinks; these sinks are made in their factory in Ontario, Canada. Their stainless steel sinks are made in Oberderdingen, Germany.
Who Is The Winner?
Whichever company and model you decide on, you're the winner, but that doesn't help you decide, does it? In comparison, both companies are top quality and industry leaders, as well as being very affordable compared to other, newer companies.
Blanco's Performa Cascade sink is rated as the best material because it uses their specialized granite composite in all their available sink models.
BLANCO, Metallic Gray 440067 PERFORMA CASCADE SILGRANIT Undermount Kitchen Sink with Colander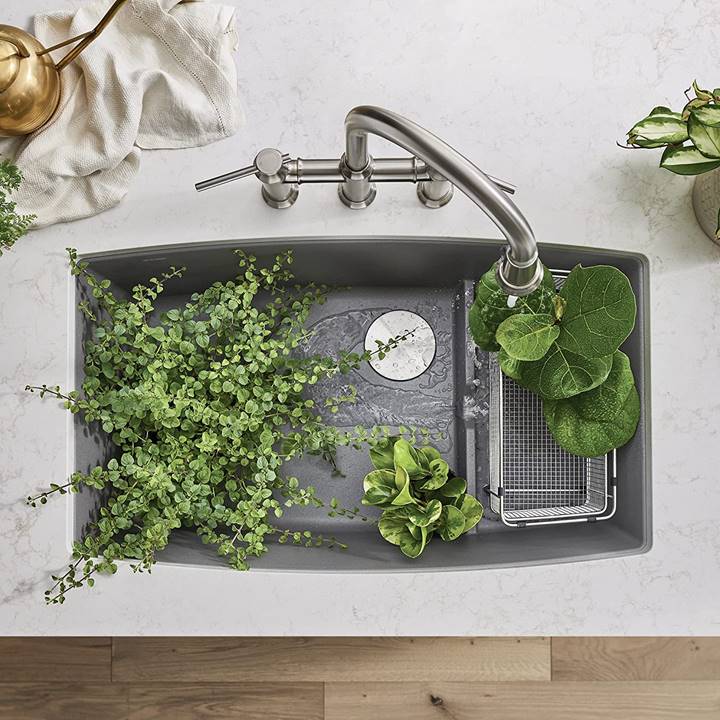 SINK DIMENSIONS: 32″ L X 19.5″ W X 10″ D and designed to fit a minimum 36″ cabinet base
FREE ACCESSORY: Stainless steel colander included for hands-free rinsing of produce and utensils
ULTRA-DURABLE PATENTED MATERIAL: Heat, scratch, stain, chip and impact-resistant while also 100%…
OPTIONAL ACCESSORIES: Grid for large bowl (item #222472) and walnut cutting board (item #222591)
For Elkay, their Quartz Classic ELGU2522BK0 has been ranked as their best product. Both sinks are high quality and durable. However, Elkay wins the battle for price.
Elkay Quartz Classic ELGU2522BK0 Single Bowl Undermount Sink, Black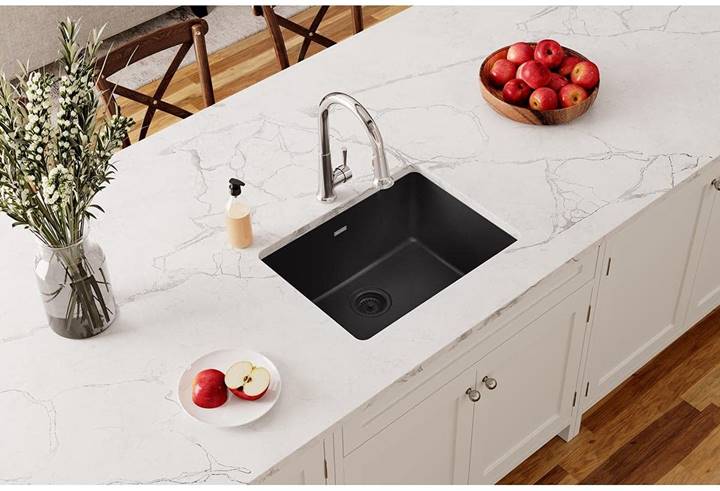 SINK DIMENSIONS: 24-5/8″ X 18-1/2″ X 9-1/2″ Min. Cabinet Size: 30″
UNDERMOUNT INSTALLATION: Sink is installed beneath the countertop creating a seamless appearance…
SINGLE BOWL: Bowl gives you uninterrupted space for washing and stacking dishes or another household…
EASY TO CLEAN & STAIN RESISTANT: Coordinate your sink color with your décor and style; washes clean…
The bottom line is that when deciding which brand and model best suits your needs, it all depends on how you want your kitchen to look and how you intend to use the sink. You can't go wrong with either brand.