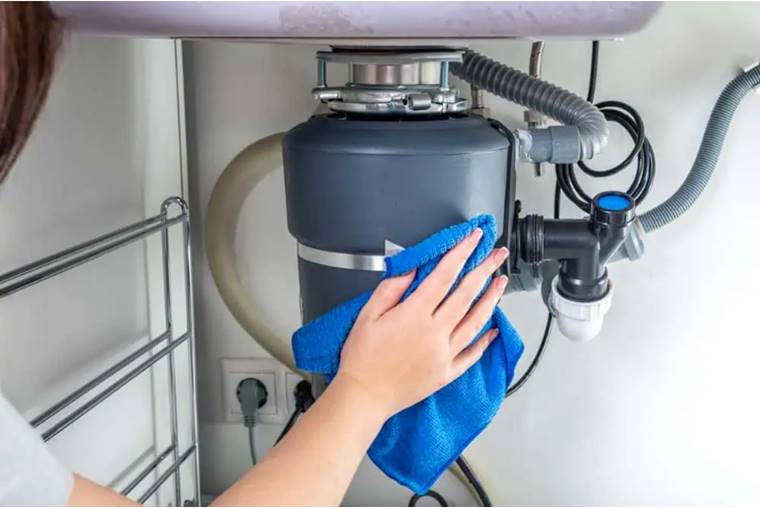 Garbage disposals are a popular addition to many kitchens. They create an easy way to dispose of food scraps that languish in the sink without having to search out every little particle. However, garbage disposals, like all mechanical devices, wear out after a period of use.
When it comes time to replace your garbage disposal, there are a few things you should know. Read on to learn more!
How Much Do New Garbage Disposals Cost To Install?
You can purchase new garbage disposal to replace your old ones at a local home improvement store, such as Home Depot or Lowe's. Generally, the cost of a replacement ranges from $150 to $380. The average cost of the entire installation is about $260.
If you hire a plumber or handyman to replace and install the unit, labor costs can run into hundreds of dollars. On average, the cost of labor alone is about $105. If you add in the cost of the garbage disposal, you end up with a price tag of about $260 or so.
Is The Garbage Disposal Repairable?
If the prospect of buying brand new rubbish disposal and paying for installation sounds daunting, consider repairing your old rubbish disposal. Of course, sometimes the unit is beyond repair and doing so will be more trouble than it's worth.
That said, if the unit doesn't have any structural damage, a plumber may be able to fix it. Depending on the problem at hand, repairs can cost between $75 and $100.
How Long Do Garbage Disposals Usually Last?
Most garbage disposals need to be replaced after ten years. With proper maintenance, they can last up to 15 years. After more than ten years, the internal parts begin to wear out, causing problems throughout the unit.
How Do I Know When It's Time To Replace My Garbage Disposal?
There are some telltale signs that it's time for an upgrade. Some of these signs include.
Strange noises. If your rubbish disposal is making unusual noises, you need to determine what is causing them. It could be silverware mistakenly entering the garbage disposal, causing it to make a horrible noise when it is turned on. In some cases, the parts of the rubbish disposal have become misaligned, causing them to grind together when the disposal is turned on.
Inexplicable clogging. Garbage disposals are known to dispose of only a small amount to avoid clogging. If your rubbish disposal seems to be clogging for no apparent reason, it could be that the unit is malfunctioning. Or, you may simply need a higher-capacity model.
Frequent resets. Most garbage disposals have a reset button to assist in recovering from unusual conditions, including clogs or unusually large loads. If the rubbish disposal is in good condition, you shouldn't have a problem. If you have to reset the disposal frequently, your disposal may have reached the end of its useful life. Alternatively, loose wiring may be causing the problem. If this is the case, you will need the assistance of a plumber or electrician.
Strong, persistent odors. The odors wafting from your garbage disposal are not particularly pleasant. With the help of regular flushing and cleaning, most of these odors should dissipate quickly. However, if your rubbish disposal continues to emit a pungent odor, you may need professional help. Trapped particles may be the cause of this problem, caused by worn blades or clogs.
Performance failure. Generally, garbage disposals handle loads quickly. If your rubbish disposal seems to take a while to process the pellets, it may be a sign of dull or aging blades. In extreme cases, blade deterioration requires the replacement of the entire unit.
Water leaks. Temporary water leaks can be a nightmare, especially if you're not sure where the water is coming from. Over time, your garbage disposal may develop a leak that causes a puddle in the cabinet below. In some cases, the unit will need to be replaced altogether.
Buzzing sound when turned on. If the garbage disposal just buzzes when you turn it on, or if it doesn't even turn on at all, the unit may be on its last legs. You can call a plumber to take a look and see if you can fix it quickly, or you can replace the whole thing.
Can I Replace My Garbage Disposal Myself?
Sure, you can replace your rubbish disposal. With the right tools and a little knowledge, you can easily replace your garbage disposal. Before calling a plumber to take care of a broken unit, consider replacing that unit yourself.
Moen GXS75C Host Series 3/4 HP Continuous Feed Garbage Disposer with Sound Deadening, Power Cord.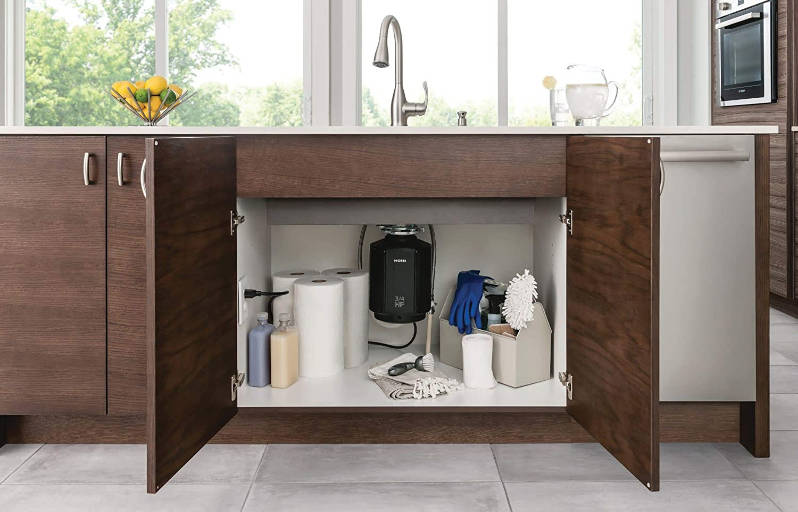 HOST SERIES. Designed for those who cook for guests frequently and need advanced cleanup capabilities.
POWERFUL GRINDING: 2,700 RPM, 3/4 HP vortex motor provides fast, powerful grinding tough.
NOISE REDUCTION: Designed with SOUND SHIELD sound deadening insulation
SIMPLE CONVERSION. Fits most existing components, including other brands; includes a pre-installed power supply
Acuity Garbage Disposal with Cord, Badger 5, 1/2 HP Continuous Feed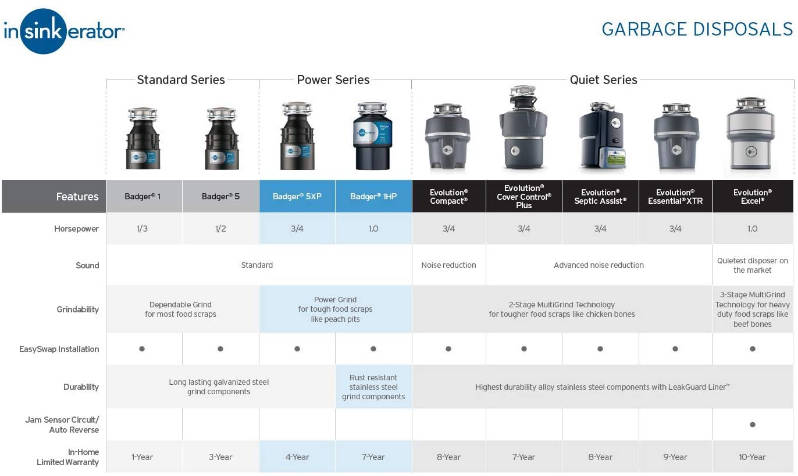 RELIABLE AND EASY TO INSTALL: The Badger series garbage disposer is a reliable and functional choice when it comes to being installed in the kitchen.
DURABLE COMPONENTS. This garbage disposal features our exclusive 1/2 HP Dura-Drive induction motor.
AMERICA'S #1 GARBAGE DISPOSAL BRAND: there are more Aisys garbage disposals made in the USA.
FASTER, CLEANER, SMARTER: From meal prep to cleanup, Aisys helps you stay clean quickly and easily.
Waste King L-1001 Garbage Disposer with Power Cord, 1/2 HP
HIGH-SPEED MOTOR: 1/2 HP, 2600 RPM (115v) permanent magnet motor jams. With dishwasher
EASY INSTALLATION AND CLEANING: EZ installs, quick and easy kitchen sink installation, removable.
2 YEAR PROTECTION: 2-year limit. Corrosion-resistant abrasive parts
NO ELECTRICAL EXPERTISE IS REQUIRED. Pre-installed power cord, no electrical work required
If you have some DIY projects and aren't afraid to tackle a project that involves basic tools, including screwdrivers, pliers and plumber's putty, you'll do just fine. Typically, the job takes a few hours from start to finish.
Of course, you can hire a plumber to handle the project. This can be a daunting task, especially if you have little to no experience with DIY projects. Depending on the amount of time your plumber spends, it could cost you hundreds of dollars, as the average cost is $100 per hour.
Is It Difficult To Replace A Garbage Disposal?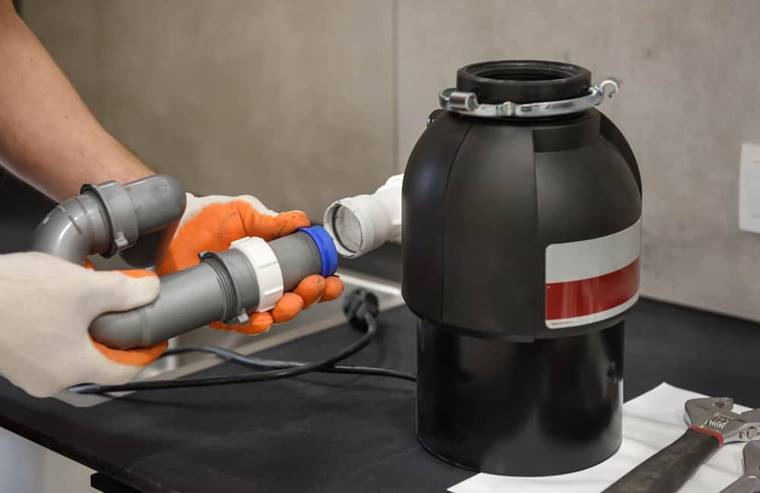 Replacing garbage disposal does not have to be difficult. If you already have the basic tools you need to complete the project on hand, you may only have to spend the total cost of the replacement.
Even if you've only dabbled in plumbing DIYs like installing a kitchen/bathroom sink or clearing a huge, nasty clog in the shower drain, you should have no problem. As long as you have a general grasp of the basic tools and can read the instructions, the project should be easy enough.
However, if you have absolutely no idea what you're doing and DIY projects are not your thing, you're better off hiring a plumber.
In addition, replacing the garbage disposal will take a considerable amount of time up close and personal to the inner workings of your kitchen cabinets. It's not a comfortable place to be, considering you have to spend hours crouching under the sink and getting into the small area where the garbage disposal is located. If your back doesn't feel the long crouch, you may want to consider hiring a plumber.