Pfister Faucet Reviews & Buying Guide – 2021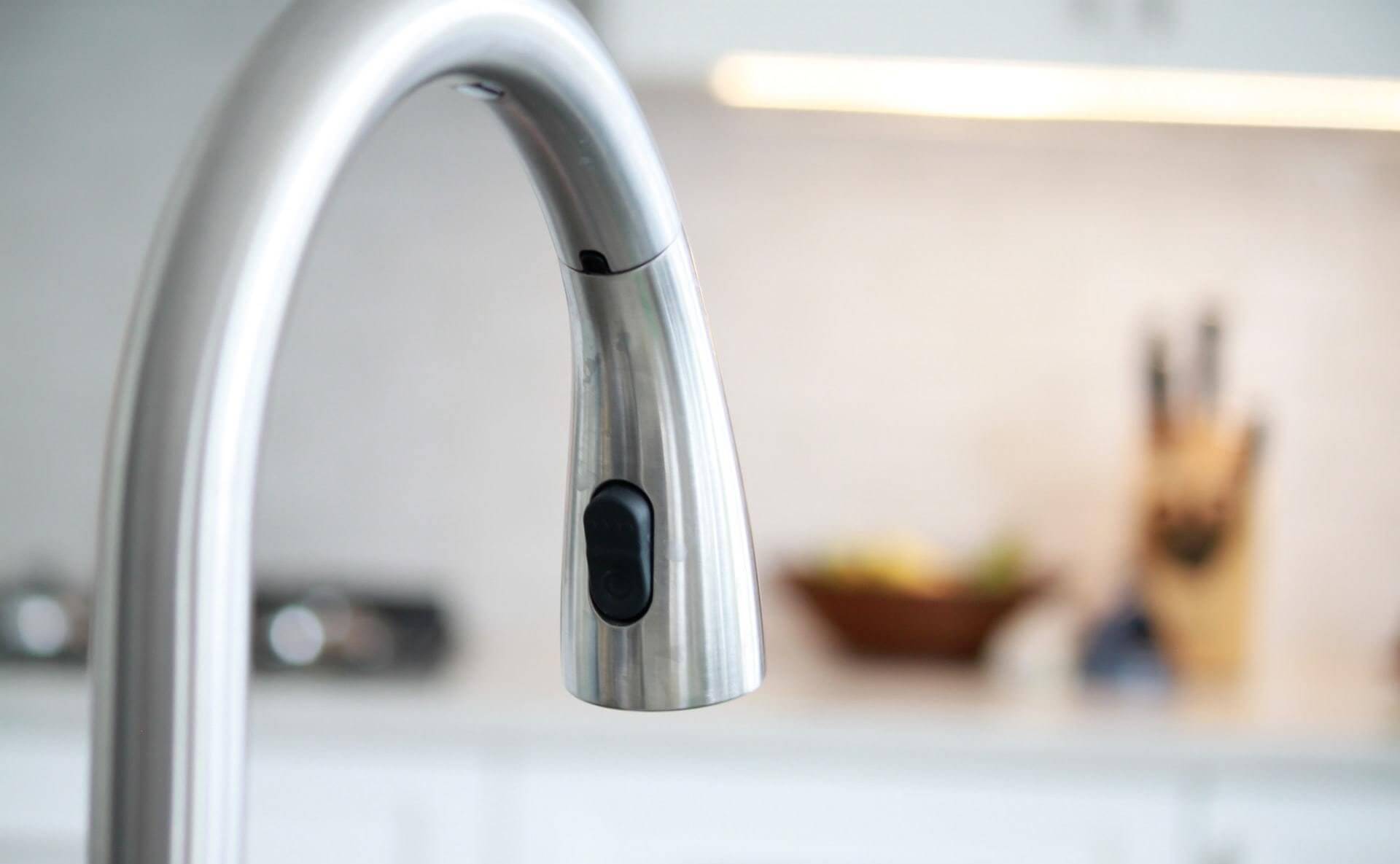 Pfister offers a large selection of beautiful faucets that are guaranteed to steal the heart of any homeowner looking to enhance their kitchen. Their collection covers everything from stunning high arched gold models to teapot curved neck faucets, all of which will make a fun addition to any kitchen interior.
Pfister also offers a wide range of color options, including but not limited to matte black, polished bronze, white gold and mirror chrome – there is a Pfister kitchen faucet available for any home.
Pfister Pfirst Series Pull-Out Kitchen Faucet (G133-10SS)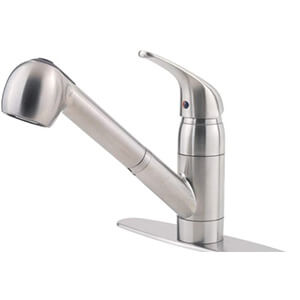 Pros
Pull out spray head allows you to switch from stream to spray with minimal effort
Meets CALGreen criteria, allowing you to converse water usage in your home by at least 20%
Spot resistant finish is perfect for busy homes, pets, and children
Cons
Some users have reported that water pressure is a little low
There is not a considerable amount of clearance compared to similar models in the market
The perfect way to upgrade your kitchen while sticking to a strict budget, this is a reliable, affordable solution to your faucet woes and packs a serious punch.
The main benefit of this model is the pull-out spout, which gives you more flexibility and mobility, perfect if you have a smaller kitchen with restricted space around the sink.
This includes a toggle button, which will allow users to effortlessly switch between a steady stream of water – perfect for filling kettles, pans and other containers – or a spray option – perfect for rinsing dishes or cleaning larger items. This is a real benefit of this model, allowing you to choose the best method and mode of water output for your needs.
Eco-friendliness is another major consideration in modern society, and this Pfister faucet covers that concern. The design is fully CALGreen compliant, which means you will be able to save at least 20% on the amount of water you use in your home, helping to save money on your water bill while reducing waste and helping to save the planet.
Keeping your faucets in tip-top shape is also a simple task, and the stain-resistant implications help ensure this is perfect for busy families with scruffy kids, messy jobs, or even just lots of oily fingerprints.
With just a quick wipe, you can make your faucet look as good as new, which can also help it last longer. One of the only problems reported with this faucet is the lack of space and clearance compared to the higher curves and spouts on the market.
While this is an accurate criticism, it is worth noting that this is a more affordable model and the lower head does not affect the usability of the unit.
Pfister Cagney 1-Handle Kitchen Faucet With Soap Dispenser (F-529-7CGS)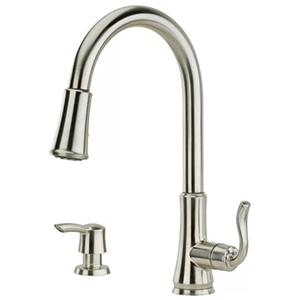 Pros
Slim, attractive design lends an elegant and sophisticated feel to your kitchen space
Designed to meet all ADA requirements
3 modes to choose from: stream, spray and pause, giving you total control over your water flow
High arc spout offers 360 swivels for maximum flexibility
Cons
There are some issues with the sprayer head refusing to fully retract, resulting in a loose hose which can be frustrating
The buttons to change from stream to spray tend to stick, and can be tricky to operate
Sleek, shiny and totally modern, this Cagney faucet is a great addition to any family home and is sure to fit perfectly into a large range of settings, interiors and environments.
With clean lines and smooth curves, this is an attractive and versatile option that will instantly upgrade the look and feel of your space; while offering fabulous functionality and a host of practical benefits!
One of the main attractions of this model is the pull-out spray hose, which makes it super easy to manipulate the water flow and supply to get exactly where you need it at any given moment. The hose has good reach and flexibility, allowing you to access the entire sink area with the added benefit of three modes: water flow, spray and pause.
This is a lifesaver if you're switching between jobs, you can switch from one to the other when you need to, and the "pause" mode is also super useful to help prevent you from getting soaked if you forget to press the right button!" .
The stainless steel finish is versatile enough to suit any style and color of kitchen, and has the added benefit of being easy to wipe down and keep clean, even in busy environments.
The single handle switch also makes this faucet very easy to use; with one push, you can control the flow and speed of the water, adjust the temperature, and turn it off after use. This is great if you're busy and have your hands full at mealtime. This feature also helps to simplify the whole look and make it fit into an elegant and modern kitchen space.
There are some usability issues, mostly focused on the nozzle; in some cases, the nozzle is difficult to retract, which can be very frustrating if you're in a hurry – a disappointing negative compared to the overwhelming positives of the unit.
Pfister Pfirst Series High-Arc Kitchen Faucet (G529-PF1S)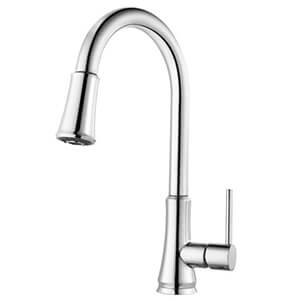 Pros
High arc spout allows for plenty of space and clearance above the sink, giving you plenty of room to move and work.
Single lever handle makes changing temperature and operating the faucet fast and easy
Covered by the Pfister warranty for extra peace of mind
Ceramic disc valve technology helps avoid the risk of leaks
Cons
Spray head switch can be clunky and awkward to use
It does feel a little cheap given the high price tag, especially when compared to other offers on the market.
The simple stainless steel finish is one of the distinct advantages of this faucet, and the result is a versatile, timeless design that's sure to complement almost any kitchen style. The clean lines and slim shape provide an unobtrusive faucet style that is functional and practical while remaining stylish.
The single lever handle helps ensure that usability is a key priority for this model, with a simple, easy-to-use action that makes it easy to turn on and off, control water flow and regulate temperature. It's perfect if you're busy and always on your hands and knees.
The high curved spout is also a considerable benefit, meaning there's plenty of room in and around the sink, allowing for emptying and access to do a lot of work.
Accessibility is very important and this is a fully ADA compliant model, which means it is suitable for all users, even if you have a disability or additional needs, or may have difficulty operating a traditional faucet or lever.
As well as being super practical and attractive, it is vital that homeowners feel confident that they are making a worthwhile investment. Pfister ensures this by using ceramic disc valve technology in their faucets, which is designed to reduce the risk of leaks, help improve the life of the product and ensure you get maximum value for money.
Although this is one of the lower models in the price range, it is vital for homeowners to feel that they are getting a good deal.
The fact that this is a lower budget option does have some drawbacks; however, some users have reported that it feels a bit cheap compared to other models on the market and that it can feel bulky and awkward compared to more sleek and expensive designs.
Pfister Wheaton Pull-Down Kitchen Faucet (F-529-7WHS)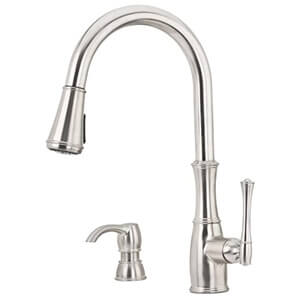 Pros
Simple, sleek design adds a touch of real elegance to your sink and is an attractive addition to your kitchen space
Comes with a coordinating soap dispenser
Advanced docking system allows you to replace the spray head and store it securely after use
Dual functions will enable you to choose the method which is best for you
Cons
Some internal components are made of plastic, and this is disappointing given the higher price tag
Feels a little lightweight and flimsy compared to other products
With its classic shape and stainless steel finish, this faucet will blend effortlessly into any kitchen. Slightly fluted edges and detailed accents add a timeless feel, a fixture that looks just as good in a traditional farmhouse setting as it does in the latest modern extravaganza.
The shiny finish adds a clean, simple look, and the matching soap dispenser gives a sense of unity and harmony that can be carried throughout the space.
In addition to looking great, the Wheaton faucet is simple to use and includes a top-of-the-line docking system that stores the spray head safely when not in use.
The flow head itself is super easy to use, and its dual function allows you to switch smoothly between water flow and spray – it's designed for you and around you.
This model is also fully ADA compliant, which means it fits even if you have a disability or need a little extra help.
The single handle controls everything, including turning the water on and off, controlling the flow and regulating the temperature; it's much easier than fiddling with various levels and faucets, making accessibility much smoother.
One of the model's only drawbacks is that the internal components are primarily plastic, rather than metal or stainless steel. The Wheaton is a slightly higher model in the price range and it is disappointing to see shortcuts taken at this level. It also means that the overall feel is a bit flimsy compared to the massive size you'd expect from a more expensive faucet.
Pfister Ainsley Stainless Steel Kitchen Faucet With Soap Dispenser (LF-529-7AYS)
Pros
16" tall faucet allows for plenty of space, making it easy to fill vessels, pots, and pans without issue
Soft curves provide a high-quality and classy aesthetic – perfect for your home
Flexible hose allows you total freedom in directing the flow and direction of the water
Great value for money
Cons
There are some issues with the sprayer remaining firmly in place between uses
Switch to change to the spray mode tends to get stuck and be tricky to use
The full mouth and sleek curves of this Ainsley model are sure to help it stand out in a crowded marketplace, and the smooth, clean lines will ensure it becomes a welcome topic of conversation in your kitchen.
It's a versatile and adaptable design that will quickly adapt to any interior and help pull together a fresh, modern look with minimal effort.
This product is also known for its flexibility in another way; the pull-down spout allows you to direct and control the water to where it's needed most – which can be a real lifesaver if you're working in a crowded kitchen or sink space, or need to fill the sink too high.
The hose also allows you to go from a continuous stream of water – perfect for filling pots and pans – to a full spray of water – ideal if you're rinsing dishes, washing vegetables or cleaning the sink. With the simple push of a button, you can quickly switch between these two modes – a handy feature that gives you greater freedom when working and performing basic household tasks.
A single handle makes usability a dream – there's no need to try to adjust multiple faucets to achieve the perfect temperature, or to try to turn a faucet while handling an armful of items! Instead, one function does all the hard work. Instead, one feature does all the hard work, which is an added convenience.
Some users report having some issues when it comes to getting the spout to stick, which is a bit frustrating considering the higher price of this faucet. However, this does not seem to be a common problem and can be affected by improper installation or damaged faucets.
Pfister Arkitek Pull-Out Kitchen Faucet (LG534-LPMB)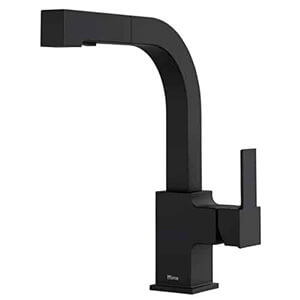 Pros
Attention-grabbing appearance and modern design
Forward the only level allows for maximum convenience and usability
Compliant with CEC water efficiency standards
Pull out spray head allows you to access all areas of the sink.
Cons
The spray and hose are made of plastic rather than metal; this is disappointing given the high-quality look of the rest of the faucet
Some users have reported very low pressure when using the hot water
Immediately eye-catching and designed to be the focal point of the room, this Arkiek faucet is certainly a departure from the standard, millwork faucet! The ultra-modern design is designed to draw attention to itself, which is a great way to make your sink the true focal point of the room.
Super modern design designed to draw attention to itself, this is a great way to make your sink a real focal point in the room, allowing you to enjoy practical functionality with a seriously stylish aesthetic. The clean lines and bold black color mean this is a statement faucet – a perfect choice if you want to stand out from the crowd.
Even better, it's far from stylistic; the Arkitek faucet has a host of additional features and benefits to help ensure it works for you every time. The spout can be moved 360 degrees, which is perfect if you need to redirect water or work in a tighter space.
Plus, the pull-down spout can be used as a standard faucet – perfect for filling cups, jugs, pans or other containers – or you can switch it to a high-powered spray function, which is ideal for rinsing pans or dishes, cleaning up spills or accidents, or even cleaning everything from muddy dogs to dirty boots if you're in the mood.
This is a faucet that will do everything you need in a busy household, but doesn't require you to compromise on style or design. One of the only downsides here can be found in the hose and nozzle – unfortunately, these are made of plastic rather than the high quality of the rest of the faucet.
This is disappointing, although it should be mentioned that this does not affect the use of the faucet. Some users also reported low pressure, but the fact that this was a sporadic complaint suggests that this may be a problem with the home water system rather than the faucet itself.
Pfister History
The Pfister brand has built its impeccable reputation over 100 years in business, providing professional-grade products to customers worldwide. 1950 saw the release of their Crown Jewel line, a household name that changed the industry with easy self-installation, plus more controls and hose nozzles.
In 1970, they were responsible for the introduction of the trendy translucent faucet handles that can still be found in homes today. Pfister has become a worldwide name and products are now sold within the United States, Canada and many international destinations.
Their goal is to offer all the latest eco-friendly systems and technological breakthroughs, while keeping up with design trends to ensure their products are easy to use and install. They were also the first manufacturer in the industry to introduce a lifetime warranty, guaranteeing the look and function of their faucets for life.
In this guide, we'll share a review of Pfister faucets and a summary of the brand's groundbreaking innovations in the kitchen industry.
Leading Technology
Pfister has introduced an exciting new development in kitchen faucets: they have introduced Xtract™, a feature built into the faucet that filters water before it leaves the faucet. It filters water twice as fast as a typical faucet water purifier, providing your family with great tasting fresh tap water free of chlorine and other contaminants.
Their React feature uses sensors so you can turn on the water flow from your faucet by waving your hand within 3 inches of the faucet. This works with the battery, and your faucet will let you know that the battery is low by flashing a red light during use, alerting you that it's time to replace it.
The React sensor also features SmartStop™ technology, which automatically turns off the water after 3 minutes of inactivity, ensuring that water waste is kept to a minimum. Choose a Pfister touchless faucet to reduce splashes and messes on your kitchen worktop, while saving more water.
Pfister's kitchen faucets are all Americans with Disabilities Act (ADA) compliant, which means they can be accessible for people with mobility issues.
Look for AccuDock logo products, which use an advanced docking system that locks the faucet spout tightly in place with the use of an extendable hose.
Choose the SpotDefense™ finish option for your faucet. It's an attractive polished silver color that complements a variety of interiors while repelling dirt, fingerprints and watermarks without the need for cleaning or wiping. Speed up your cleaning efforts with this handy invention developed specifically to save you time.
Pfister's Value For Money
Pfister pull-down kitchen faucets cost about $300 – a very reasonable mid-range price for a faucet of this caliber. They come with a no-leak guarantee, a 360-degree swivel spout for maximum flexibility, and the brand's Pfister Pforever Warranty® provides a lifetime warranty on the faucet's function and appearance.
Starting at $150, Pfister two-handle kitchen faucets are available in a range of finishes and generously include a matching side spray. The side spray can be pulled out of the holder and attached to a long hose for excellent maneuverability during cleaning.
The price range for Pfister's high-end products extends all the way up to $800. These models have sophisticated product designs – such as their "vintage" style and modern models – and feature state-of-the-art attributes. With Pfister's high-end products you can enjoy pull-out hoses, adjustable water flow and spray volume control.
Customers are sure to find a Pfister kitchen faucet to match any budget. In addition to the latest features, the brand often includes a free matching soap dispenser in the price.
Finding The Best Pfister Product For You
Pfister's website offers clear navigation and filters to help you find the perfect product for your home. You'll see a large selection of finishes, including white (which is rare in kitchen faucets), brushed nickel and oil-impregnated bronze.
Filter your choices with the drop-down menu and select your faucet based on varieties such as single-handle, double-handle, pull-down, pull-out and spout.
You can also search by collection name and style – including traditional, contemporary and "transitional" (showing in-between and unusual styles). There really is a Pfister kitchen faucet to suit any trend or taste.
Why choose Pfister?
We recommend Pfister kitchen faucets to anyone in the market for a new kitchen for the following reasons
Pfister faucets contain a built-in filtration system that produces clean and safe tap water in an instant.
Premium touchless sensor function to minimize mess
Auto shut-off feature helps conserve water
Wide selection of gorgeous colors for any home
Luxury product at a very reasonable price
Original design not found anywhere else
Lifetime product warranty that reflects quality standards and assures customers that if anything goes wrong, it can be replaced at any time
Easy to install, with simple online how-to videos for each product
Excellent lifetime record of customer reviews
And much more
See why Pfister is one of the most reliable kitchen faucet brands by comparing it to the brands on our website. Hopefully, after reading my Pfister faucet review, it will help make my decision a little easier.