Kingston Brass Vs Moen – Brand Comparison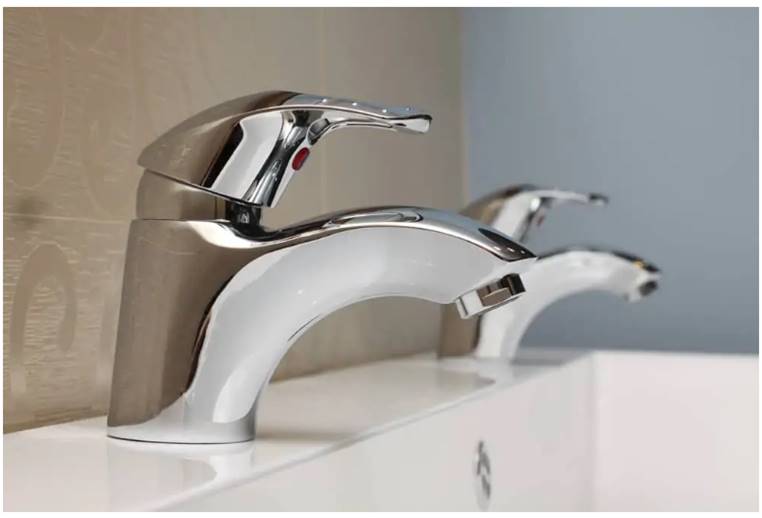 Upgrading your home can be expensive and fixtures can eat up a large part of your budget, leading to the inevitable compromise between what you can afford and what you want.
Wouldn't it be great if you could get the best of both worlds? Well, get ready to get excited, because you can! Kingston vs Moen have a range of products. Kingston and Moen have a range of quality kitchen taps at half the price you'd expect to pay from the most expensive brands.
Although these two brands are direct competitors and many of their products are similar, they both excel in different areas. While their stock is both huge, we'll try to shine a light on some of what they have to offer so you can narrow down your decision.
Kingston Brass Faucets

To say that Kingston Brass has a wide selection would be a bit of an understatement. They have a huge selection of plumbing fixtures, and they probably have every kind of bathroom and kitchen product you can imagine (unless you're imagining a rubber duck).
While they don't sell bath toys, they do focus on making vintage-inspired taps with a modern design. A big reason for their popularity is their prices. You would be hard-pressed to find a better deal on taps from anyone else.
Kingston also has a huge range of finishes and styles to choose from, with over 60 collections and 20 different finishes to choose from. On their website, you can find anything from drop-down taps to spouts in finishes including nickel, bronze and brass.
While many of Kingston's models have a traditional look, they all come with all the features you would expect from a modern tap, such as hands-free operation and perfect engineering. A few of their most popular ranges include the Caesar, Heritage and Continental ranges.
Double Choice: Are Kingston Brass' Taps Good Quality?
If you read their customer reviews online, you can find a lot of complaints about Kingston Brass, especially about their special finishes such as oil-rubbed brass. This has led many people to question whether the quality of Kingston Brass taps is really good.
To answer this question, the bodies of their taps are made of heavy-duty solid brass and they will last for generations if properly maintained. If you decide to go for a special finish, remember that it requires more maintenance than a standard finish.
Company History
Kingston Brass was founded in 1988 in Chino, California, by a group of industry professionals who saw an opportunity to make a name for themselves. In the early days, the company used technology and cutting-edge supply chain management strategies to break into the plumbing and lighting business.
Initially, Kingston focused on a small but high-quality product range. Since then they have grown considerably and now have over $10 million in products If you're wondering who makes Kingston Brass' taps, they have several brands under their belt including Gormmetier, Fauceture and Vintage.
All of their taps are backed by Kingston Brass' lifetime product warranty and free delivery. The return policy for products purchased directly is 30 days; for most wholesale distributors it is 30 days.
| | |
| --- | --- |
| Pros | Cons |
| Some of the most affordable prices | Some finishes require special care |
| Unique and elegant vintage-inspired designs | Many parts are manufactured in China |
| Modern engineering | |
| Wide selection | |
| Lifetime warranty | |
| Modern engineering and design features | |
| ADA compliant | |
SALEBESTSELLER NO. 1
Kingston Brass KS1273ALBS Heritage 8-Inch Kitchen Bridge Faucet with Brass Sprayer, Antique Brass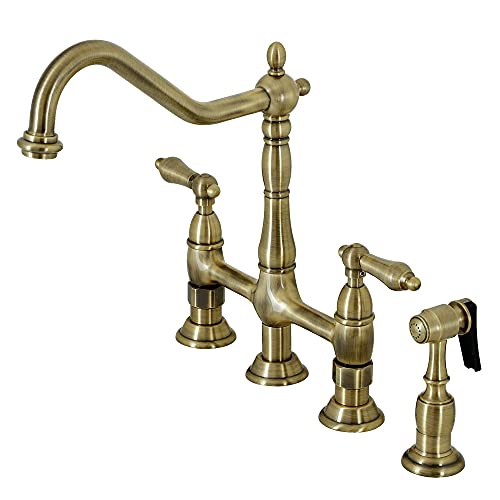 Solid brass construction
1/4 turn ceramic spool
8″ spread 4-hole countertop mount; 8-3/4″ spout extension
8GPM/6.8LPM maximum water flow at 60PSI (ASME standard)
SALEBESTSELLER NO. 2
Kingston Brass KS1775ALBS Heritage Kitchen Faucet, 8-1/4-Inch, Oil Rubbed Bronze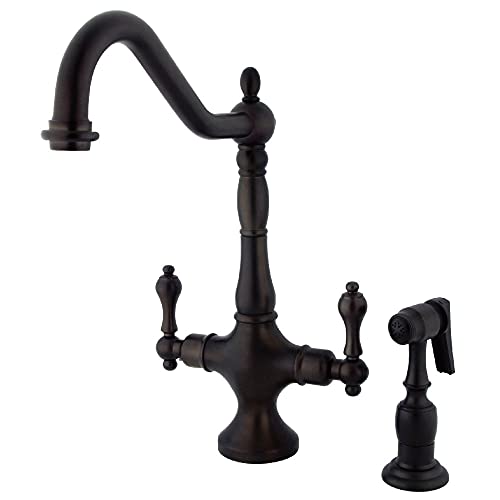 Solid brass construction; 1/4 turn Hardisc spool
Allow a minimum of 7″ on center between faucet and spout
8-1/4″ spout extension
Maximum 1.8GPM/6.8LPM water flow at 60PSI (ASME standard)
SALEBESTSELLER NO. 3
Kingston Brass KS1275AXBS Heritage Bridge Kitchen Faucet, 8-3/4″ Spout Reach, Oil Rubbed Bronze
Includes brass nozzle
1/4 turn ceramic disc core
8 3/4″ spout projection, 9-7/8″ spout clearance; 4-hole installation
8GPM/6.8LPM water flow at 60PSI max (ASME standard)
Moen

Moen also happens to be one of the world's leading and most trusted brands of kitchen taps. Although Moen doesn't have as much choice as Kingston in some areas, they still have an extra-large selection of pull-out/pull-down, fixed spout and bar-ready taps. Most of Moen's taps are deck mounted, but they do have some wall-mounted taps.
Again, they mainly sell single-handle taps, but you will find some two-handle taps in their stock. Sprouts are available in high or low curvature and there are over 20 colors to mix and match. You also have a choice of 10 different finishes, including nickel, bronze and stainless steel.
Moen's Arbor range is full of elegant, affordable taps that are durable and easy to maintain. the Arbor single lever high arc MotionSense wave pull-down tap is a stylish mid-range model.
For a more affordable but still luxurious option, take a look at the Moen 7594C Arbor Single Handle Pull Down Kitchen Faucet with Power Lift and Reflex. If you want a commercial-style tap then you can't go wrong with the Moen Brushed Nickel Edwin
Single Handle Pre-Rinse Spring Pull Down Kitchen Tap.
Double choice: Are Moen's taps made from brass?
Moen uses a variety of different materials to make its faucet components, including plastic, brass, stainless steel and zinc. The body of each Moen tap is made of lead-free brass and steel. The material of construction varies from model to model.
Company Background
The Moen Company was born on a random night in Seattle, Washington in 1927. As legend has it, a sudden burst of hot water from a seemingly pointless event inspired inventor Al Moen to invent the first single-handle tap.
Since that fateful day, Moen has been a major player in the plumbing and fixture industry, with distributors in 55 countries. Over the years, they have continued to innovate and refine their products to offer cutting-edge features such as smart home functionality and hands-free operation.
In addition to kitchen taps and bathroom fixtures, Moen also sells accessories such as towel bars and rings, shower curtain bars and rubbish disposals. Most Moen products come with a lifetime warranty and they accept returns within 30 days from the date you receive your order.
If you prefer American-made products, you'll be pleased to hear that Moen has two manufacturing facilities in the United States. One in North Carolina and the other in Pennsylvania. Although the company likes to brag about this fact, many of the components used in Moen products are still made in China.
| | |
| --- | --- |
| Pros | Cons |
| Sophisticated design and flexible functionality | Some parts are made in China |
| Affordable prices | A limited selection of two-handle faucets |
| Smart home features | |
| Versatile selection | |
| Easy to find replacement parts | |
| Great customer service | |
| Lifetime warranty | |
| Manufactured in the USA | |
BESTSELLER NO. 1
Moen 87233SRS Adler One-Handle High Arc Pulldown Kitchen Faucet with Power Clean, Spot Resist…
SPOT RESISTANT: Spot-resistant stainless steel finishes resist fingerprints and water spots for a cleaner finish.
POWERFUL CLEANING: Powerful cleaning spray technology provides 50% more spraying power than most of our products.
SCALABLE: equipped with the Reflex system for smooth operation, easy movement and safe docking…
EASY TO USE. The tap pull-down hose provides flexible water delivery; the hose retracts automatically and can be connected to the tap.
BESTSELLER NO. 2
Moen 87028SRS Edwyn Spot Resist Sta Inless 1Handle Deck Mount Pulldown Kitchen Faucet, Stainless…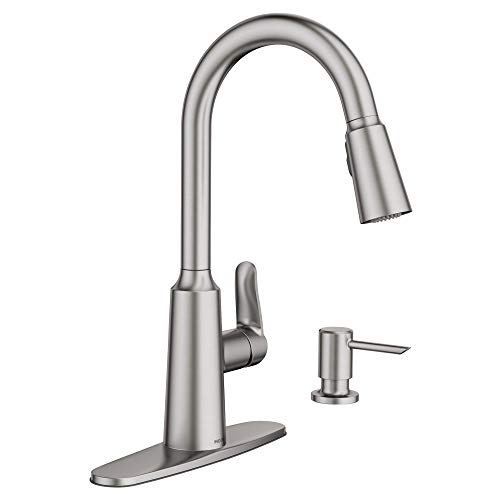 This product is made in the USA
Brand Name: Moen
Model: 87028SRS
Country of origin: USA USA
SALEBESTSELLER NO. 3
Moen 5923SRS Align One-Handle Pre-Rinse Spring Pulldown Kitchen Faucet, Spot Resist Stainless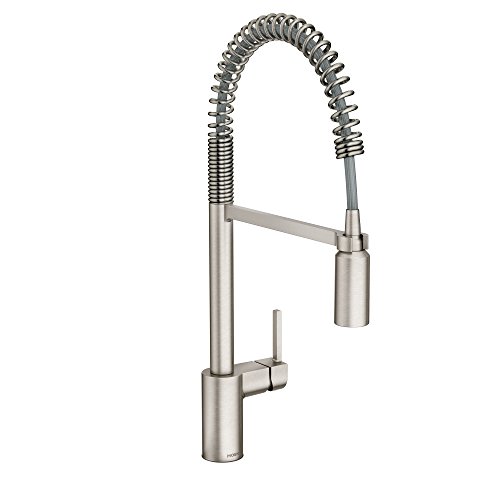 SPOT RESISTANT: A spot-resistant stainless steel finish that resists fingerprints and water stains for a cleaner finish.
Provides up to 4 times the hose coverage compared to competitor residential spring taps…
The tap pull-down hose offers flexible water delivery and the hose can be easily retracted.
POWER CLEAN: Power Clean spray technology provides up to 50% more spray capacity than most of our products.'
Conclusion of Kingston Brass vs Moen
Moen is more established than Kingston and their annual sales revenue is maybe 10 times that of Kingston, but that doesn't mean everything, they are two of the most reliable kitchen tap brands in the industry.
If you're going for a traditional or Victorian look, Kingston has an incredible variety of finishes and two-handle taps worth considering. Moen has some great traditional styles and a range of sinks to suit both modern and contemporary styles.
Both brands have a versatile selection of designs and features to suit any kitchen, but there is certainly a lot of ground to cover. Happy shopping and bon voyage!