Kraus Vs Kohler Sinks – Brand Comparison
Is it time to replace your old kitchen sink? Or maybe you're planning a new makeover to give your kitchen a fresh new look. Whatever the reason, no kitchen is complete without the perfect kitchen sink.
If you're looking for a stylish sink that won't break your budget, Kraus and Kohler are two great options. Both brands offer inexpensive sinks that are durable and beautifully made. We'll tell you everything you need to find a sink with the right features at the right price.
Kraus – An Incredible Variety
Kraus carries a wide variety of home fixtures and plumbing products. They have an impressive selection of kitchen sinks – with plenty of choices in terms of size, installation type and bowl configuration.
With 14 different product ranges and 15 different colors, there are endless possibilities to choose from. They offer a wide range of design styles, from simple commercial zero radius edges to traditional elegant farmhouse style sinks with extra deep bowls.
There are many different bowl configurations to choose from. You can find utility basins, double bowls and single bowl configurations. For tight spaces, the KORE range offers a great solution for those who want a system to stay organized.
Are Kraus Sinks Made In China?
Kraus is an importer of top-mount, bottom-mount and apron sinks with a focus on outstanding design and high quality. While some brands such as Kohler manufacture parts in the USA, most of Kraus' parts are manufactured overseas, especially in China. Their sinks are extremely durable and made from heavy-duty materials.
Stainless Steel – Their stainless steel sinks are made from extra thick 16TRU16 genuine 15 gauge material. It is very strong, easy to maintain, looks great and will last a lifetime.
Granite/Quartz Composite – The surface is hard, smooth, compact and non-porous, keeping it clean is a breeze. It comes in a variety of different colors.
Fireclay – Originating from Italy, it is renowned for producing some of the best fireclays in the world. It is durable, scratch-resistant and stylish. It also comes in a variety of different colors.
Do Kraus Sinks Rust?
There have been reports of sinks developing rust spots, but this can easily be prevented. Kraus sinks have a rust-resistant coating, but certain finishes such as stainless steel or enamel can oxidise and rust if not cleaned properly – especially if you have hard water. With proper care, even the cheapest sinks can remain rust-free for a lifetime. Here are some other problems that can lead to rusting
Cleaning with metal cleaning pads or harsh chemicals
Leaving rubber mats in the sink.
Pooling of water.
Background and Warranty
Headquartered in Port Washington, NY, with branches throughout the United States, Kraus has quickly risen to become one of the biggest names in the plumbing and fixture market since the company's inception in 2007.
They have been growing steadily, thanks to their dedication to innovation and amazing attention to detail. As can be seen from their relatively short history, the company has invested a great deal of effort in developing their product range to hone in on what people want.
All of their sinks are ADA compliant, IAPMO Shield certified, AB1953 compliant and come with a limited lifetime warranty. These sinks are well constructed, but there is always a chance that they will be damaged in transit; that is why Kraus has a 30-day return policy, starting from the day of delivery.
| | |
| --- | --- |
| Pros | Cons |
| Durable | Premium models can be pricey |
| Stylish | Some coatings are harder to maintain |
| Wide variety of models, colors, coatings, and bowl styles | |
| Versatile designs | |
| Affordable with high-end options as well | |
| Lifetime warranty | |
SALEBESTSELLER NO. 1
Kraus KWU110-32 Kore inch Undermount 16 Gauge Single Bowl Stainless Steel Kitchen Integrated Ledge…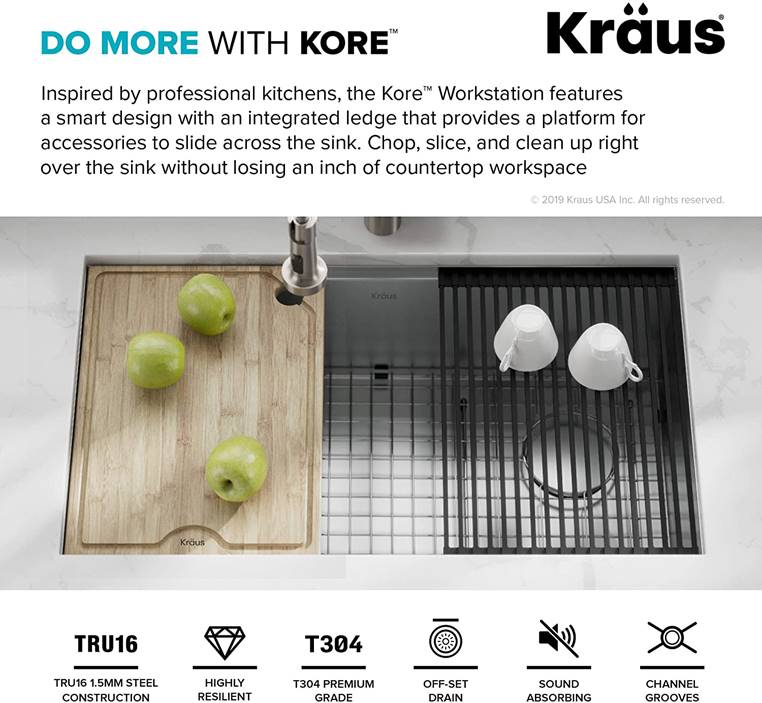 WORKTOP SINK with 2 tier rail system allowing you to slide custom fittings over the sink.
SPACIOUS SINGLE TIER SINK: deep sink with tight radius corners and offset drains creating an uninterrupted sink.
HEAVY-DUTY 16 GAUGE STEEL – made from the thickest TRU16 stainless steel on the market, this sink is highly durable.
DESIGNED FOR EASY DRAINAGE, the offset drain with its gently sloping bottom and access grooves avoid environmental impact.
BESTSELLER NO. 2
Kraus KHU100-32 Standart PRO 16 Gauge Undermount Single Bowl Stainless Steel Kitchen Sink, 32 Inch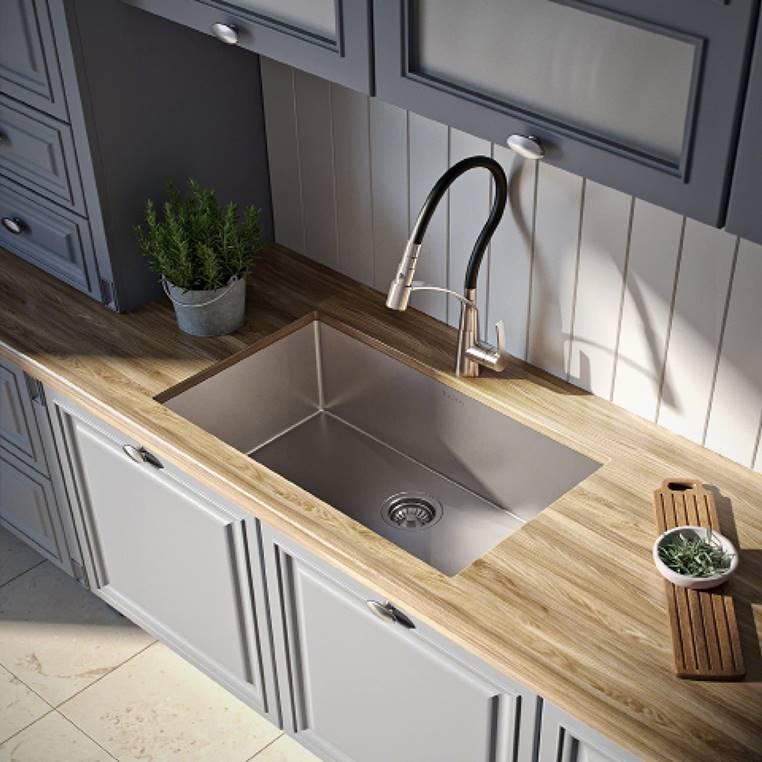 MADE FROM STAINLESS STEEl | Resistant to corrosion and rust and will not fade over time | Set includes a sink,…
PRODUCT DIMENSIONS | Overall – 32″ L x 19″ W x 10″ D | Minimum cabinet size – 36″ | Bowl -…
BEST-SELLING STAINLESS STEEL SINK with a commercial kitchen faucet to meet demand.
RESILIENT AND EASY TO CLEAN commercial-grade satin finish resists corrosion and rust and matches most stainless steel sinks.
BESTSELLER NO. 3
Kraus KGUW2-33MBL Bellucci Workstation Undermount Granite Composite Single Bowl Kitchen Sink with…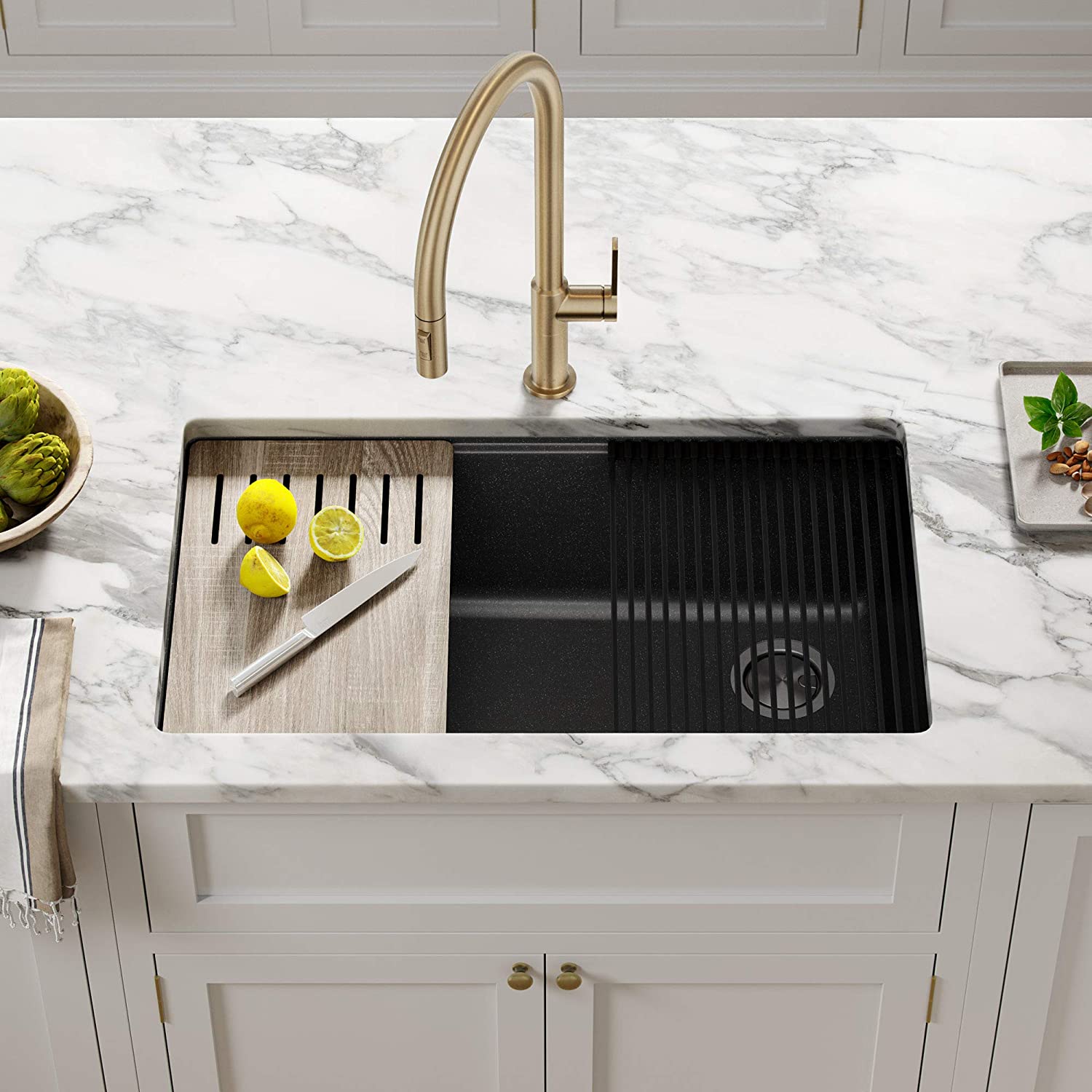 WORKSTATION SINK. The integrated bay window allows you to work directly on the sink, with custom…
KRAUS CLEANING HOME PRODUCTS. The cutting-edge granite sink contains hard, smooth, compact and non-porous materials.
SPACIOUS SINGLE SINK: the large capacity sink with rear drainer creates an uninterrupted surface.
ROLLING DISH RACK: heavy-duty stainless steel dish rack with non-slip silicone, ideal for washing dishes.
Kohler – Unmatched Quality

Kohler sinks are very popular with professionals and DIY homeowners looking for something durable and stylish. While Kohler is known for their superior craftsmanship, they are able to offer more affordable prices than most of their competitors.
They offer some of the best deals on kitchen sinks for standard 1, 2 and 3 hole installations. Although their range is not as extensive as Kraus, they have a large enough selection to suit any project.
Why Are Kohler Sinks So Expensive?
Sometimes higher quality costs more, but they have a range of price options. Sinks like the Kohler Whitehaven farmhouse sink are an example of their more luxurious sinks and are one of their best sellers. Its enameled cast iron has a rich finish that looks classic and sophisticated. You have many color options to play with. Darker colors can make a bold statement, while lighter shades add dimension.
Are Kohler Sinks Worth Buying?
Products like the Whitehaven Farmhouse sink reflect over a century of craftsmanship, and its price is reasonable for what you get. If you compare the prices to their counterparts, you will find they are less expensive. If you're looking for a more practical option, Kohler has a number of affordable sinks such as the Kohler Verse overhead kitchen sink.
Kohler sinks can last a lifetime and come in a variety of shapes, sizes and colors. The sinks are made from 3 different materials.
Stainless steel – incredibly stain-resistant, rust-proof and durable. Hot pans can't harm them and they are easier to maintain than materials such as fireclay.
Enameled cast iron – Their enameled cast iron can withstand anything you put on it. Many people like cast iron because it adds character to the kitchen.
Composite – NEOROC is a concrete composite that is rich in color and offers a warm matte finish. It pairs well with natural stone worktops. It is rock-solid and resistant to scratches, stains and chips.
Company Origins And Reputation + Pros/Cons
Kohler is a well-established multinational company with an excellent reputation. The company started with plumbing and expanded its business to become a global leader in several industries. It has ventured into everything from real estate to healthcare.
John Michael Kohler founded the company in 1873 in Kohler, Wisconsin, where they are headquartered today. As a leader in the plumbing business for over 100 years, they have had plenty of time to perfect all aspects of their business.
Sometimes gutters can break due to accidents, lack of maintenance or standing water. If this happens, you can replace your gutters quickly and easily. They offer a lifetime warranty on all their sinks, which shows that they are very confident in the construction of their sinks.
| | |
| --- | --- |
| Pros | Cons |
| Extremely well-crafted | Higher-end models can be pricey |
| Lifetime warranty | Some finishes are harder to maintain |
| Affordable | |
| Versatile design | |
| Wide selection | |
| Noise reduction stainless steel sinks | |
BESTSELLER NO. 1
KOHLER Prolific 33 inch Workstation Stainless Steel Single Bowl Kitchen Sink with Included…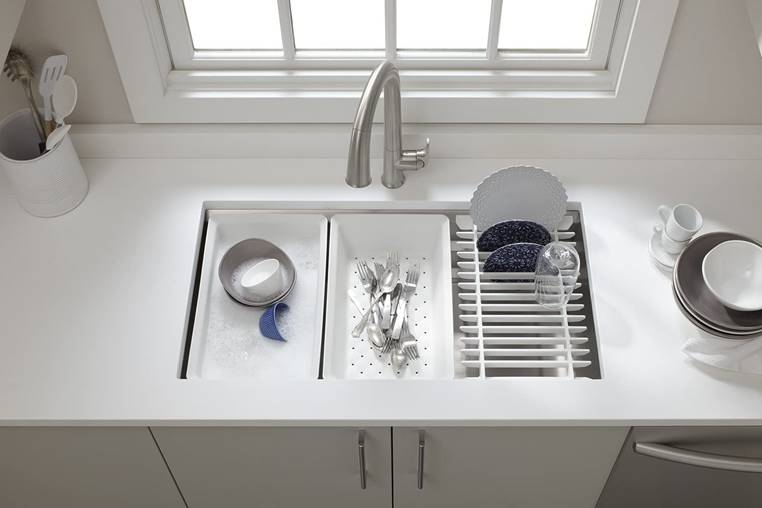 SINK DIMENSIONS. 33″ x 17 3/4″
MINIMUM CABINET BASE WIDTH: 33″ to 36″ minimum cabinet base width, modifications required if 33″.
INCLUDED ACCESSORIES. The sink includes a bamboo chopping board, grating shelf, wash bin and colander ……
KITCHEN WORKSPACE: the grid shelf of the sink allows you to place your accessories where you want them.
BESTSELLER NO. 2
KOHLER Whitehaven Farmhouse Sink, Self-Trimming Tall Apron Front, K-6489-0, White
SUITABLE FOR APRONED SINK BASE cabinets with a minimum of 36
BASIN SLOPES 2 DEGREES towards the drain to reduce the water build-up
OFFSET DRAIN increases the working space of the sink and the storage space below. Acid-resistant enamel material.
9″ DEEP
SALEBESTSELLER NO. 3
KOHLER K-5409-NA Strive 29-Inch x 18-5/16-Inch Undermount Medium SingleBowl Kitchen Sink with Basin…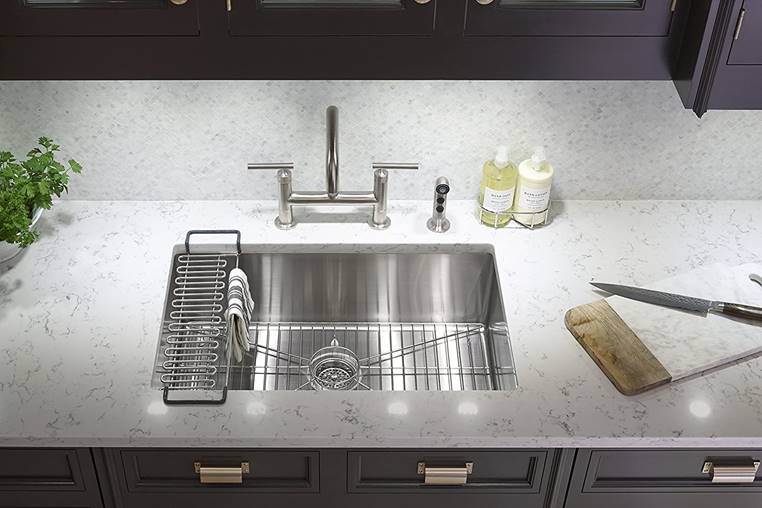 30″ minimum base cabinet width
Single tiered bowl
9″ depth
This sink has increased dimensions to maximize the space available in the 30″ base cabinet.
Kraus Vs Kohler Sinks: Which Brand Is Best For You?
Kraus and Kohler are similar in many ways. They both produce every standard type of sink, their finishes are similar and even their logos look the same. The main difference between the two can be found in their product selection.
Kraus has more variety, especially in terms of bowl configurations and colors. Don't get me wrong, Kohler's selection is large enough to suit almost any kitchen design. While both brands offer products for any size budget, I think Kohler's high-end sinks are unmatched in terms of craftsmanship.