Pros and Cons of A Low Divide Kitchen Sink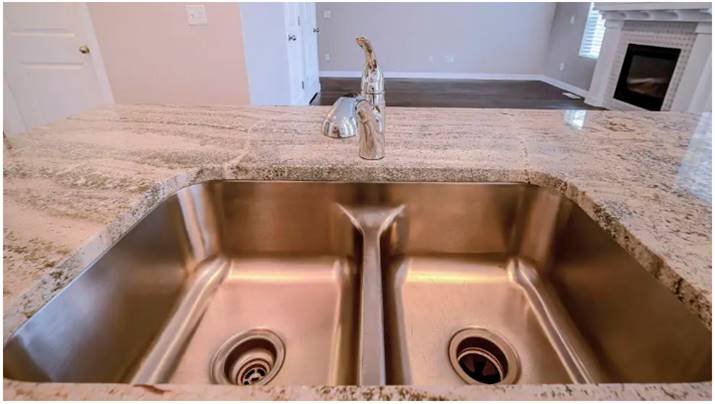 There are a bunch of different kitchen sink styles, materials, colors and brands. So when it comes to choosing the perfect sink for your kitchen, you may feel a little overwhelmed if you're not already leaning toward a specific style. Fortunately, we're here to help. Today, we'll examine low divide sinks to help you determine if they're the right choice for your kitchen.
What Is A Low Score Sink?
A low score sink has two basins, similar to a double basin sink. However, a low-split kitchen sink has a low-set central divider that only rises partway up the basin. Typically, the top of the divider is only half the height of the entire sink. This gives you extra space to wash large dishes that do not fit in a double or single sink.
Many different brands offer different styles of low-index kitchen faucet sinks, including Kohler, Blanco, and Elkay.
Advantages and Disadvantages of Low-Scoring Kitchen Sinks
Like all things, low score sinks have their share of benefits and drawbacks.
Pros
Easy to clean: Low partitions make cleaning oversized dishes, such as cookie sheets or large pans, much easier. Instead of repeatedly fiddling with a pan in the sink, trying to get it at just the right angle so you don't make a mess, simply place it on the divider. It's low enough that you won't splash soapy water everywhere but high enough that you don't have to bend over to clean it (unless you're very tall).
Separate dishes. A low kitchen sink offers the best of both worlds. You get the expanse of a large single basin sink, but still, have a divider to separate the dishes.
Cons
If you need deep water, it's a problem. If you need a sink full of deep water for various cleaning tasks, such as washing dishes or soaking large pots and pans, you'll have trouble with these sinks. The low-set divider only allows you so much water, making it impossible to fill the sink with fairly deep water. On the bright side, you're less likely to make a mess: the splash will go over the dividing line into the opposite sink.
Things To Consider When Buying A Low Demarcation Line Kitchen Sink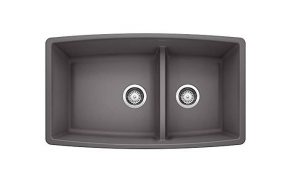 The first and most important thing is to do your research. Make sure you thoroughly examine each of your options before choosing the most appropriate one. Figure out what kind of material you want. Low-profile kitchen sinks are available in composite stone, cast iron, stainless steel, and more.
Choose An Appropriate Size
Also, make sure you choose the right size. Pictures online can be deceptive, leading you to believe that the sink is larger or smaller than its actual size. Therefore, check and double-check your measurements and listed dimensions to make sure the sink fits your kitchen. Make sure you take into account the double bowl and extra plumbing under the sink.
Pick The Right Height Separator
Follow our final tip: check the manufacturer's measurements for the divider. Some dividers are as low as three or four inches high. Make sure you think through what you need the sink for so you can make the right choice. Try to find a sink that allows you to easily clean large pots and pans while still filling one of the bowls with the right amount of water for cleaning.
Some manufacturers offer offset sinks where one of the pots is larger than the other. These sinks are good for situations where large pots and pans need to be cleaned. Narrower basins may not be convenient for the size of pots or pans, but larger basins can easily accommodate large pots and pans. In addition, some manufacturers add a curve to the back of the sink to further expand the available space for larger pots and pans.
 Choose An Installation Method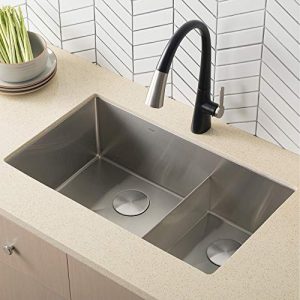 Low-split kitchen sinks are generally of the under-mount or drop-in variety. However, you may find the ideal sink that you can install in a different way. Drop-in low-partition kitchen sinks are simple: all you have to do is, as the name suggests, drop the sink into a hole in the countertop.
You do, however, have to cut a specially sized hole in the countertop to accommodate variations in sink size. If you are not familiar with power tools, you may find this process complicated.
On the other hand, under counter, low-level kitchen sinks usually require more work because you have to secure them underneath the countertop. They don't have a lip on the countertop like a floor-mounted sink, which means you have to secure it under the countertop.
Generally, under-counter kitchen sinks are secured to the bottom of the countertop with heavy-duty clips and caulk or special adhesives. The edges of the sinkholes are exposed, so under counter sinks are not ideal for porous countertop materials because water can splash into the crevices and allow mold to grow.